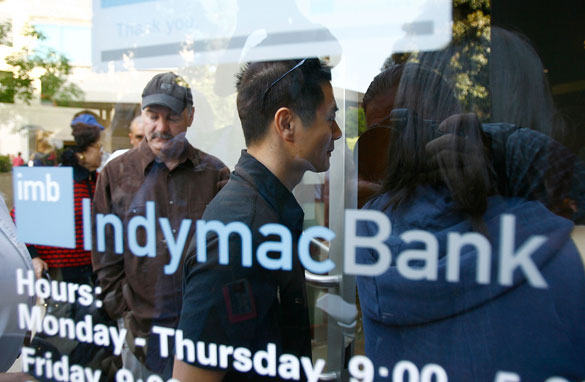 Customers line up in front of an IndyMac Bank branch in Santa Monica, California to withdraw their money. The bank failed and was taken over by the government last Friday.(PHOTO CREDIT: GETTY IMAGES)
FROM CNN's Jack Cafferty:
The clouds over America's economy and financial system are growing darker and more ominous.
Federal Reserve Chairman Ben Bernanke told Congress today that the economy is facing "numerous difficulties", including strains on the financial markets, rising unemployment and the housing crisis.
He warned that rising prices for energy and food are making the chances of inflation worse. And it's getting worse.
The Labor Department reported wholesale prices jumped 1.8% last month, which means inflation is now rising at a faster pace than at any time in the last 25 years.
Bernanke's testimony comes just two days after the federal government made provisions to assist Fannie Mae and Freddie Mac in the event they need it. These two companies hold or guarantee$ 5 trillion in mortgages, almost half of the nation's total. But as more and more people default on mortgages, the bigger the problems that are created for companies that hold them.
One of the nation's big bank's, IndyMac, failed and was taken over by the government last Friday. People in Southern California waited in long lines to withdraw their money, in scenes reminiscent of the Great Depression. Investment bank Bear Stearns went belly up in March and was taken over by JPMorgan Chase. More than 90 banks are currently on the FDIC watch list.
There's more: Corporate profits are slowing, the stock market is tanking, energy prices continue to surge and the dollar hit a record low against the euro today. But this morning President Bush assured us our financial system is quote, "basically sound."
Here's my question to you: How concerned are you about the health of America's financial system?
Interested to know which ones made it on air?
Patricia from Boise, Idaho writes:
It's starting to get my attention. For the first time, I find myself thinking "sure glad I don't have $100K". I'll tell you what really had me concerned was George W. Bush trying to educate me on the topic during this morning's news conference.
Ben from Chicago writes:
*I am very concerned, Jack. Although there are only 90 banks on the FDIC watch-list, in fact IndyMac was not on that list. When the powers-that-be do not even see the 2nd largest bank collapse in history coming, things could get pretty wild.
Bruce from Minnesota writes:
*It sounds pretty bad, but thank God it's all in my mind. I think Ben Bernanke should talk to Phil Gramm before he goes spouting off about depressing trends. The liberal media are likely to misconstrue his comments to mean something negative, which I'm sure he did not intend. Personally, I am not too worried about banks. I hardly have any money left in my account anyway.
Jane from Silverton, Oregon writes:
The financial mess is the perfect end to the Bush administration. Could we see a montage of all the film clips of Bush saying the fundamentals of the economy are sound?
Bill from Alabama writes:
Very concerned! It is beginning to sound like the start of a depression, instead of a recession!
Paulo writes:
I am more concerned than President Bush seems to be. Of course, the worsening economy affects me more than him, especially since I am elderly and on fixed income.
Aaron from Champaign, Illinois writes:
The president is "basically" an idiot.