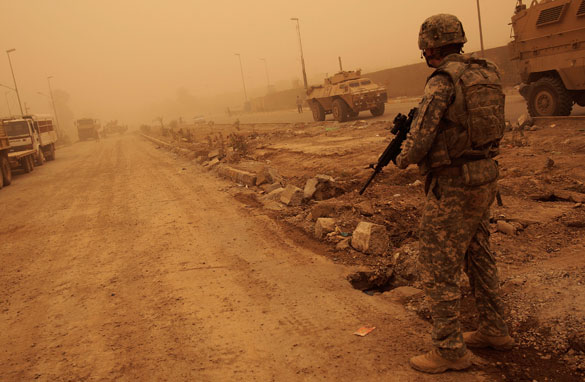 Army soldier of the 3rd Brigade Combat Team of the 4th Infantry Division patrols in the Sadr City neighborhood of Baghdad, Iraq. (PHOTO CREDIT: GETTY IMAGES)
FROM CNN's Jack Cafferty:
The Iraqi government is finally making its voice heard, and it's not the message the White House was hoping for.
Baghdad is saying there will be no security deal with the U.S. unless it includes a timetable for withdrawing our troops from their country.
This puts the Bush administration in a delicate position. The U.N. mandate that allows American troops to be in Iraq expires at the end of the year. Pres. Bush has long opposed a firm timetable, but he also wants the Iraqi government to stand on its own. President Bush himself has said in the past that he would go along with the Iraqi government's wishes.
U.S. officials now say Iraq has the right to determine its future, but once again insists that a timeline would be a bad idea. Resistance from the Iraqi government will probably make it difficult to finish those negotiations by the end of this month, like the administration wanted.
It might mean that a long-term deal won't be worked out until the next president comes into office. Some believe that the two countries might end up working out a short-term deal.
But, it shouldn't come as a big surprise that Iraq is standing its ground here. A poll conducted this spring showed that 72% of Iraqis oppose the presence of U.S. forces, and Prime Minister Nuri al-Maliki can't ignore that fact.
Some experts say that al-Maliki may be trying to show his people that he's tough enough to stand up to the U.S. After all, he doesn't want to lose support from Iraqis to the cleric Muqtada al-Sadr, one of his chief rivals. The prime minister's words might also be meant for Iran, who doesn't want the U.S. to use Iraq as a launching pad from which to attack them.
Here's my question to you: Should the U.S. agree to Iraqi demands for a timetable for U.S. troop withdrawal?
Interested to know which ones made it on air?