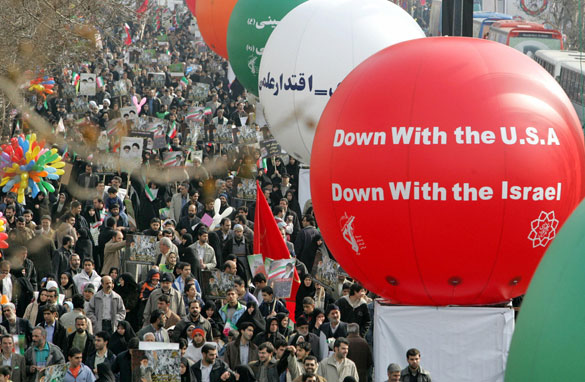 Balloons in the colors of the Iranian flag read anti-US and anti-Israel slogans as Iranians take part in a rally to mark the 28th anniversary of the Islamic revolution in Tehran. (PHOTO CREDIT: GETTY IMAGES)
FROM CNN's Jack Cafferty:
Time is apparently running out to do something about Iran's nuclear program.
In the latest issue of New Yorker, Sy Hersh reports the U.S. has stepped up covert operations inside that country–everything from spying on Iran's nuclear program to supporting rebel groups opposed to the country's ruling clerics.
Meanwhile, a former head of the Israeli intelligence agency, Mossad, tells London's Sunday Telegraph that Iran may have a nuclear weapon within a year. And he says there's no doubt Iran intends to use it once it gets it. He says the time is getting shorter for Israel to act.
Unlike the U.S., which has spent more than 5 years looking for Osama bin Laden and invading Iraq and not succeeding at either, the Israelis tend not to mess around.
Ask Syria. Last year an Israeli airstrike reportedly targeted a partially built Syrian nuclear reactor. Ask Iraq. In 1981, Israel bombed a nuclear reactor in Baghdad, saying they thought it was making nuclear weapons to destroy Israel.
While the international community, led by President Bush, continues to bluster and sanction and threaten, Iran continues its relentless march toward nuclear weapons.
There's a lot of stuff the civilized world doesn't want to deal with. Iran having nuclear weapons would be somewhere near the very top of the list. Unless they have a change of heart – a la North Korea – it looks more and more like Iran is going all in. And it's going to be up to somebody in the west to decide whether or not to call.
Here's my question to you: If Iran is attacked, who should do it: the United States or Israel?
Interested to know which ones made it on air?

Maureen from Tewksbury, Massachusetts writes:
If the current administration decides that Iran needs to be invaded, they will invade. And they will probably do it right as they are walking out the door, handing the whole mess to the new administration. Right or wrong, it's as simple as that. With the U.S. backing Israel, and Russia and China backing Iran, we are poised to start a nuclear war, which will go far beyond the Middle East.
Matt from Omaha, Nebraska writes:
I can't believe some of the comments saying, "Let Israel attack Iran, and then we can defend Israel because we're her ally." That's a load of bull! If Iran is attacked by Israel, Iran has every right and duty to strike back. Our soldiers should not shed one drop of blood to protect Israel. If they want to stir up the hornets' nest, let them take all the stings.
Les from Lakeland, Florida writes:
Under what circumstances would an attack be justified? That would be a better question. An unwarranted attack by the U.S. would be a diplomatic disaster that would completely destroy what little credibility we have left in the area. An unwarranted attack by Israel could lead to a possible use of nuclear weapons upon other Arab nations as Israel attempts to protect its position after creating a renewed Arab-Israeli War.
Jan from Knoxville, Tennessee writes:
The United States should certainly not do it. Our military is overstretched as it is. Americans have had enough of war. I really don't think it would be a good idea for Israel to do it either.
Shane from Boston writes:
Jack, I have an intelligent idea: How about none of the above? And all I have to point to is North Korea. We sanctioned the hell out of them, used the U.N. to put increasing pressure on them and finally, Kim Jong Il broke. The same can be done with Iran. Diplomacy first!