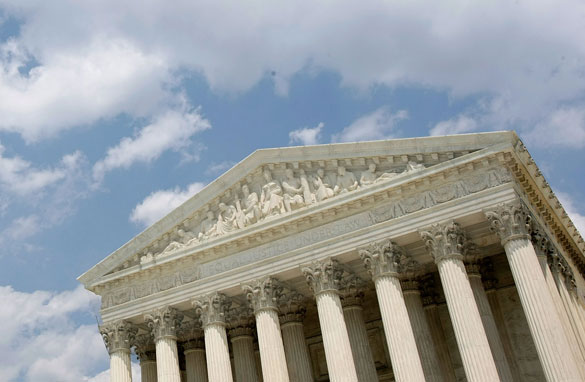 (PHOTO CREDIT: GETTY IMAGES)
FROM CNN's Jack Cafferty:
There's no shortage of issues concerning Americans when it comes to their vote for president in November: the economy, skyrocketing gas prices, Iraq, health care, and more.
But perhaps as important as any of these is the future of the Supreme Court of the United States. In recent weeks, the high court has made some key and often close 5-4 decisions. These include the reversal of the handgun ban in Washington, outlawing the death penalty for child rapists... and upholding the rights of detainees at Guantanamo Bay to appeal in U-S courts.
All of this serves as a reminder that the next president – be it Barack Obama or John McCain – could have a significant role to play in the make-up of the court perhaps for decades to come.
The Boston Globe reports that legal analysts say the court will likely have at least one vacancy in the next administration, and it could well be more than that.
The oldest justice is 88 and two others are in their 70s. And since the court is now split between 4 liberal and 4 conservative members with Justice Anthony Kennedy often as the deciding vote – even one vacancy could mean a big change. One expert suggests McCain could have more influence to swing the court if he becomes president because two of the oldest justices – John Paul Stevens and Ruth Bader Ginsburg – are part of the liberal bloc. Antonin Scalia is the only member of the conservative bloc who is older than 60.
Both Obama and McCain have attacked the other for the kind of justices they would appoint. But somehow despite the intensity of our politics, our Supreme Court has remained comprised of justices who are fair-minded and dedicated to upholding the law. Most of the time.
Here's my question to you: How much will the future of the Supreme Court matter in your vote for president?
Interested to know which ones made it on air?
Karen from Nashville, Tennessee writes:
I'm probably in the minority here, but I'm an independent and this will be the deciding factor in my vote. If Sandra Day O'Connor had remained on the bench, I would feel freer to consider the many, many other issues.
Nick from Cary, North Carolina writes:
All I have to do is think of Clarence Thomas, who will likely be a justice for the rest of my lifetime, to know this answer is yes, yes and yes!
P. from New Mexico writes:
It isn't very high on my list of "things to worry about". That list is topped with the economy, the neighbor's son in Iraq, and the probability that the drug-related violence south of me will soon be moving north.
Larry from Ohio writes:
Jack, You bet it will make a difference. After my second amendment rights were barely upheld in a recent decision, I'm going to have to hold my nose and vote for McCain!
Donald from Hilton Head, South Carolina writes:
Supreme Court appointments are the singular reason that prevents my wife and me from even considering voting for McCain. He has committed himself to the ultra-right wing, and his appointments would be a huge set-back to women's rights.
Dayton from Columbia, Maryland writes:
A lot. It seems that the Supreme Court is the branch that has most control over some of these divisive issues (e.g. abortion, gun control, and the death penalty). These are the issues that divide America. They represent our principles as a nation and show our growth as civilized beings.
Mike from Ohio writes:
None. It's the economy stupid!