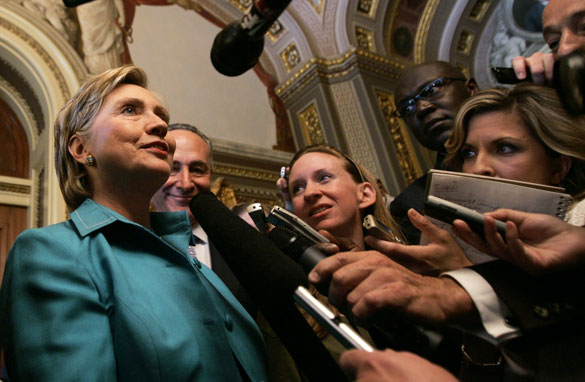 Sen. Clinton will introduce some of her top donors to Sen. Obama on Thursday night in Washington, and on Friday the two of them will appear together at a rally in Unity, N.H. (PHOTO CREDIT: GETTY IMAGES)
FROM CNN's Jack Cafferty:
After a rough and tumble primary season, the Democrats are now hard at work trying to heal the wounds.
The New York Times reports that Barack Obama and Hillary Clinton are working their way through a stack of complicated issues with the help of one of Washington's top lawyers - sort of like a couple in a troubled marriage going through counseling.
On the table are topics like how to repay Clinton's campaign debt and what her role should be at the Democratic convention. Aides say no one has raised the issues yet of a potential V.P. slot for Hillary, or what to do about Bill Clinton.
When it comes to Clinton's debt – which is estimated at more than $22 million, including $10 million of her own money – Obama has asked his big-dollar fund-raisers to help her out. However, he says he's not going to e-mail his small-dollar donors to pitch in since "their budgets are tighter." Some Clinton backers are disappointed that Obama hasn't made the symbolic move of writing Clinton a check for $2,300, the maximum allowed. Others think Obama hasn't made much of an effort to hire Clinton staffers.
As for the convention, the two sides are negotiating which night Clinton should make a prime-time speech and if her name should be symbolically put into nomination. The talks have been described as complicated, but not hostile.
Meanwhile, Clinton and Obama will have a joint meeting with some of her top donors tonight in Washington and tomorrow the two will appear together at a rally in Unity, New Hampshire.
Here's my question to you: What should Hillary Clinton's role be at the Democratic convention?
Interested to know which ones made it on air?
Bruce writes:
She should enthusiastically support Obama. I don't get all this stuff about how Hillary's debt is any of Obama's concern. Did he even encourage her to borrow the money? Did he cosign? Hey, if you borrow the money, it's your problem. It's not even Hillary's supporters' problem. Hillary and Bill need to liquidate some of their assets and pay Hillary's debt.
Dori from Arizona writes:
Hey, Jack! Hillary can have the opening act. She can welcome and greet, get the crowd clapping and stomping their feet. We know she can give a good speech when she sets her mind to it. Then, as the festivities roll on, Sen. Obama can take over. He'll close it with a slam-dunk like the party hasn't seen in eons!
Jan writes:
Her role should be whatever she wants it to be. She's the one with 18 million of us who still think she should be president, the one with some actual answers and goals to the problems at hand. She's the fighter and the one who's been there and done that!
Winston from Las Vegas writes:
The role for both Hillary and Bill Clinton at the Democratic Convention should be that of "ushers". The Clintons are bitter; the American public voted and decided that they've had enough of them. They are sore losers and it's time they realize that it's not about them anymore.
Beau from Fredericksburg Virginia writes:
You know, Jack, I think Hillary should be head of security at the convention. Seeing as how she managed to evade the sniper fire in Bosnia, she seems well-qualified.
Willow from Iowa writes:
She should be a wonderful cheerleader. She should rally everyone together to help the Democrats win in November. She shouldn't, however, continue to remind everybody of her 18 million voters. This is Obama's time, not hers.
Greg from Cabot, Arkansas writes:
Maybe she could bake some cookies.