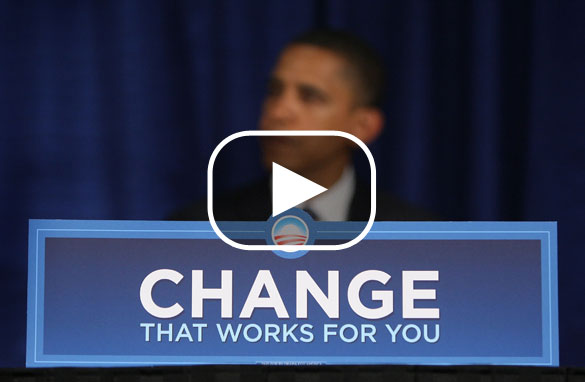 Click the Play Button to see what Jack and our viewers had to say.(PHOTO CREDIT: GETTY IMAGES)
FROM CNN's Jack Cafferty:
Barack Obama is widening his lead over John McCain in early polling. A new Los Angeles Times-Bloomberg poll shows Obama topping McCain by 12 points – 49% to 37% – in a two-man race. If you include third-party candidates Ralph Nader and Bob Barr, Obama leads McCain by 15 points. A recent Newsweek poll also shows Obama up by 15.
CNN's poll of polls reflects this growing gap as well, with Obama now leading McCain by 8 points – 48% to 40%. That's double the 4-point lead Obama held in this average of polls less than two weeks ago.
Obama's lead may be due in part to his positions on domestic issues, with many voters saying he'd do a better job than McCain handling healthcare, taxes and the economy, the nation's number one issue. McCain once said he's not an expert on the economy. He continues to insist that the fundamentals of the economy are very strong.
McCain is also lagging behind when it comes to the passion of voters. Among those who say they'll vote for McCain, 51% say they're "not enthusiastic" about him. But of those who say they will vote for Obama, 81% are enthusiastic.
McCain remains the most trusted when it comes to protecting the country from terrorism. But that may not hold up if advisers like Charlie Black keep saying things like another terror attack on U.S. soil would help McCain.
Here's my question to you: What does it mean if Barack Obama is opening up a double-digit lead over John McCain in some polls?
Interested to know which ones made it on air?
Jaye from Williamsburg, Virginia writes:
Big deal. These numbers don't mean a thing. If the mainstream media would give McCain as much attention as they give to Obama, then there wouldn't be such a spread. Today Obama offered to help Hillary Clinton with her campaign debt. Now if that isn't buying votes, I don't know what else is.
Frantz from Atlanta writes:
It means that the media will now turn on the front-runner in order to make things more interesting. And, the GOP dirt machine will get cranked up.
Greg from Ontario writes:
Jack, Polls are seldom accurate at the best of times. The people they are important to are journalists, pundits and those rare voters who try to figure out how everyone else is voting so they can do the same. Thank god we got guys like you and Wolf to keep the issues up front.
Pamela from Germany writes:
It means that the American public is not as stupid as some think. They realize that McCain is a flip-flopper and can see the huge difference between the two candidates. Once the head-to-head debates start, I believe the lead will get even larger.
Fred from Las Vegas writes:
A double digit lead in June doesn't necessarily guarantee Obama a win. Any number of things can alter the direction of this race. But whatever happens, if the Democrats don't win this time, I don't know when they will.
Ross from Baltimore writes:
It means most voters don't want George Bush's third term.
Dan from New Orleans writes:
It means that the I.T. department over at Diebold may have to rig the voting machines that much more than they had to in the last election.