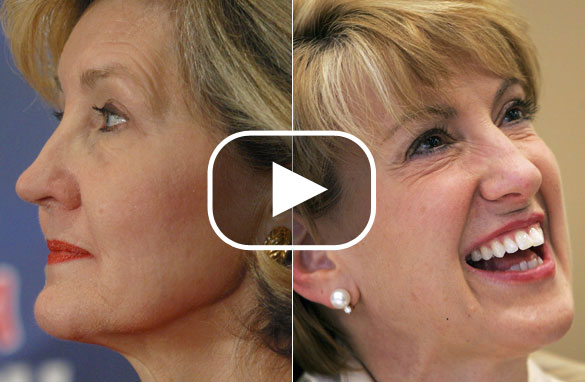 Texas Sen. Kay Bailey Hutchison and former HP CEO Carly Fiorina, suggested as two potential McCain running mates. Click the Play Button to see what Jack and our viewers had to say. (PHOTO CREDIT: GETTY IMAGES)
FROM CNN's Jack Cafferty:
Women who supported Hillary Clinton are suddenly the belles of the ball. Barack Obama and Hillary Clinton are getting ready to woo her supporters-but John McCain wants them too. Polls suggest Obama leads McCain when it comes to women, but what if McCain picked a woman as his V.P.?
The Politico takes a look at McCain's options for filling out the ticket, noting that any of these women would be a symbolic turn away from Dick Cheney, "the ultimate D.C. old-boys-club insider." Although some have suggested Secretary of State Condoleezza Rice, she's repeatedly said she's not interested. That leaves McCain with:
– Alaska Governor Sarah Palin. At 44, she would add youth to the ticket. It could use it. Palin may not be well-known nationally, but she's one of the country's most popular governors – with approval ratings as high as 90%. She is also stridently anti-abortion, recently giving birth to her 5th child who she knew would have Down Syndrome.
– Former Hewlett-Packard CEO Carly Fiorina is another option. Fiorina is in charge of preparing the party's crucial get-out-the vote operation. She's been all over the campaign trail and TV supporting McCain and has become one of his top economic advisers.
– And there's Kay Bailey Hutchison of Texas – the longest serving female Republican Senator. Hutchison has held key posts within the party. She's been a surrogate for McCain in the race, and has proven she can get out the Hispanic vote.
Although Republican insiders point to downsides for each of these three potential candidates, they say a woman on the ticket could add some excitement to McCain's candidacy. In case you hadn't noticed, Republicans are a little short on excitement these days.
Here's my question to you: Would John McCain's selection of a woman as V.P. help him get some of Hillary Clinton's supporters?
Interested to know which ones made it on air?
Damian writes:
As long as McCain has his track record against women's rights, he could fill every post in his fantasy administration with women. I'd bet women are not going to swing for him, unless of course they want unequal pay and accept their body as being the property of the federal government.
Susan writes:
I cannot think of a single GOP female that would bring a Clinton supporter to the dark side. Not going to happen: GOP women are taught to behave themselves and not think. (See: the entire service of Condoleezza Rice for examples of the "best" the GOP has to offer.)
Cindy from Mississippi writes:
Of course it would help. Unfortunately, given McCain's age and the possibility that his veep will one day be president, there are a lot of women who would vote for him on that basis alone. I'm voting for him whoever he chooses, but Palin sounds best to me!
Jim writes:
No, I don't think that a woman would help at all. McCain's problem lies with conservatives, and adding a woman to the ticket is only going to make this problem more pronounced.
Cindy from Houston writes:
Surely you're not asking if women who supported Hillary would turn to support McCain if he had a woman on the ticket. Women support a ticket with a woman, no matter who it is? Please give us more credit. I'm all for a female candidate for president and/or vice president, but ALL of the female choices presented to us this year (including your list) just don't cut it.
Shane from Boston writes:
Jack, Don't you have anything else to talk about today? We all know this is a ploy to keep you and Blitzer in business for the long summer months ahead. We all know that it will take a woman and the biggest Obama blunder for McCain to get elected.
Justin writes:
Somewhere in the country, Ann Coulter is drooling.