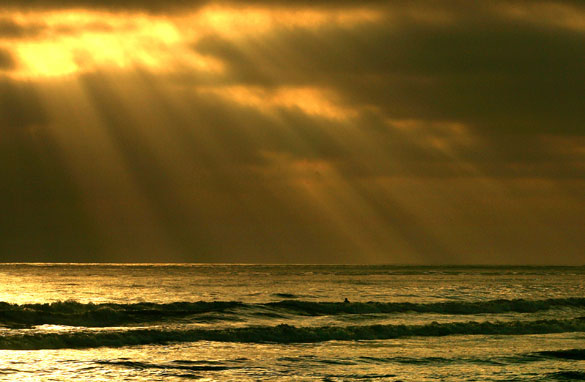 (PHOTO CREDIT: GETTY IMAGES)
FROM CNN's Jack Cafferty:
Americans have got religion... at least according to a new poll.
The Pew survey of more than 35,000 people found that 92% of those surveyed believe in God or a universal spirit and more than half pray at least once a day.
It turns out we Americans are a tolerant bunch, at least when it comes to religion. Although a majority of those polled say religion is very important to them, nearly three-quarters believe that many faiths besides their own can lead to salvation. Also, most think there's more than one way to interpret the teachings of their religion.
Experts say this seems to go against the theory that the more religious people are, the more intolerant they are. They add that tolerance might come from the great diversity of the U-S.
The report also found that across many faiths, those who pray more often are also more politically conservative. For many of these people, the fight against abortion and gay rights remain key issues. Findings show that the South is by far the most religious part of the country... and the Northeast is the most secular.
It also found that almost 80% of Americans believe in miracles, 74% believe in heaven and most believe in angels and demons, too. Only 59% believe in hell.
Here's my question to you: Do you believe in miracles?
Interested to know which ones made it on air?
Don from Ocala, Florida writes:
Jack, life is a miracle. Good, bad, rich, poor the journey is a miracle. Happiness is a choice but being able to make that choice is a miracle!
Jim writes:
A thousand years ago, miracles were frequent. Then the explanations came. A hundred years ago, miracles became less frequent, but those events that were described as miraculous were also explained… A miracle is simply an event that can not be explained. Yet.
Betty from Alabama writes:
Jack, Not yet. However, If this country makes it to January 20, 2009 without being committed to another war, I'll consider it a miracle.
Sam from Oroville, California writes:
I would if I ever heard Jack reading a comment from me on air. Now that would be a miracle.
Jeff from Los Angeles writes:
While I don't believe in miracles, I do believe there are events that are so extraordinary and beyond any current scientific explanation that they qualify as being 'miraculous'. Example: I still can't explain how Bush got elected twice.
Jack writes:
No such thing. It is just fate. When it is good, we call it a miracle. When it is bad, it is a disaster. The only miracles are the ones we create for ourselves.
Brenda from Maine writes:
America is a miracle.
Ralph writes:
My son just passed the Global History Regents. That was a miracle.
Mike writes:
You're still on the air, aren't you, Jack? The defense rests.