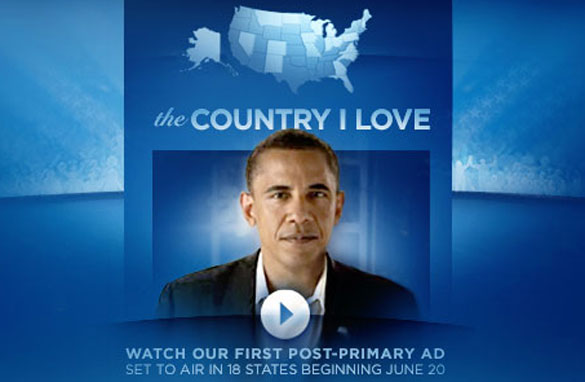 (PHOTO CREDIT: From Barack Obama's official website)
FROM CNN's Jack Cafferty:
After a 16-month long primary campaign, you'd think voters would already have a pretty good idea about who Barack Obama is.
But not so fast. Now that Obama has wrapped up the Democratic nomination he's taking the time to reintroduce himself to the American people.
Obama first general election TV ad is airing in 18 states – many of them traditional Republican strongholds – and focuses on his biography. It's designed to show that he shares the same values as all Americans. Even some Republicans have praised the ad for its focus on values, tax cuts and welfare reform.
A close friend of Obama told the Washington Post it's necessary to start a new campaign with a new introduction, saying "You can't presume that everybody was paying attention during the primary season." An Obama media adviser adds that the candidate still isn't well known to voters in many parts of the country.
Obama opted out of public financing for his campaign last week because it's estimated he can raise hundreds of millions of dollars more than public financing would provide him. If that proves to be the case, we will all get to know Barack Obama quite well between now and November
Here's my question to you: After a 16-month primary campaign, is it necessary for Barack Obama to reintroduce himself to voters?
Interested to know which ones made it on air?
Karen from Branson, Missouri writes:
Yes, now that Obama is the Democratic nominee he needs to introduce himself to the public again. Hillary supporters were busy following her news and Republicans were busy watching their own nomination process. So there are probably many voters who really do need to "get to know" Barack Obama.
Gord from Boston writes:
Jack, I am sure Barack Obama will spend hundreds of millions of dollars to have the spin doctors and advertising execs re-introduce a crafted image of him that would put a prescription drug ad to shame: Take a dose of Barack Obama and when you wake up everything in your life will be great! How much re-introducing and money will it take to make the American public believe that the manure that he is feeding them is actually maple syrup?
Sunyare from Detroit writes:
No, he shouldn't. What's wrong with the way he has introduced himself the first time? If the initial introduction got him this far, why fix it if it ain't broke? But the fact that questions like this have to be asked, with respect to Obama and not McCain, shows that Obama will undoubtedly have to work hard to appease the fears of those who are still not comfortable with his race.
Blake from Florida writes:
There are so many lies out there, spreading via email, the internet and word of mouth that he really needs to correct them so yes, re-introducing himself could be a good move. The problem comes from the fact that most of the people spreading these lies at this point are the same people that wouldn't believe Obama even if he denied it. It might be a useless gesture in the end.
Carol from California writes:
Unless you've had your head buried in the sand for the past 16 months, not only does everyone know who Barack Obama is but his campaign slogan, "Yes we Can" is seared permanently into our brains! He now needs to introduce the rest of his campaign slogan to voters "How We Can" and he only has four short months to do it!