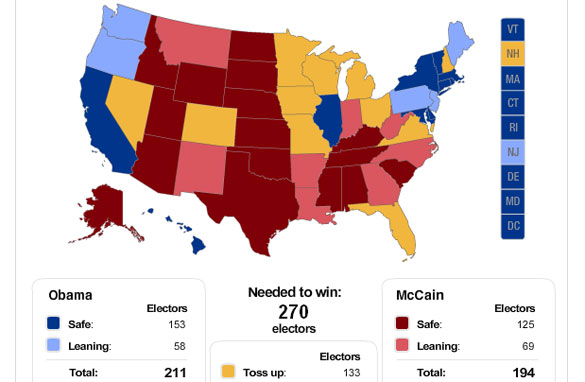 CNN's Electoral College Map (PHOTO CREDIT: CNN)
FROM CNN's Jack Cafferty:
Just two weeks after the end of the Democratic primary season, Barack Obama has jumped ahead of John McCain in three key swing states – Pennsylvania, Ohio, and Florida. Obama was defeated in the primaries by Hillary Clinton in all three of these states. Clinton made the point at the time that she was the only candidate who could defeat John McCain in November because she was winning the so-called battleground states.
The fact that support for Obama has increased so quickly in these states could be taken as a sign the Democratic Party is coming together behind its nominee despite the long and bitter primary fight between Obama and Clinton. Obama has never campaigned in Florida because its primary was disallowed by the Democratic National Committee. Clinton easily won the white, working class voters in Ohio and Pennsylvania considered critical for a Democratic victory in November.
The election is still almost five months away, and obviously anything can happen. Polls done this far ahead are often not indicative of what will happen on Election Day. Historically the public doesn't begin to really focus on the election until after the party conventions are over. But the record turnouts during the primaries indicate there is an unusual amount of interest in this election.
And there's no doubt the states in question are crucial. Florida clinched the presidency for George Bush in 2000; Ohio did the same thing in 2004.
Here's my question to you: What does it mean that Barack Obama is already leading John McCain in Pennsylvania, Ohio and Florida?
Interested to know which ones made it on air?
Gary from El Centro, California writes:
It's too early to put a lot of stock in the polls, but it does seem to shoot down Hillary's argument that Obama is unelectable. I do believe that Obama has a chance not only to win, but win in a landslide. These early polls suggest that McCain is surprisingly weak in areas he should be strong in, and Obama is surprisingly strong in areas where he was perceived to be weak.
Venia from Philadelphia writes:
It means this: with over 370,000 jobs lost since January, over 1 million homes in foreclosure, over 4,000 troops dead from this senseless war, the world hating us, gas at $4.10 and rising daily, we cannot afford John McCain and people are finally waking to that fact. I will never forget the British newspaper the day after the 2004 election when we re-nominated Bush and the headlines read "How can 54 million people be so dumb?" Well it looks like they got educated.
Scott from Pennsylvania writes:
Doesn't mean a thing, there is still a lot of time left. We haven't even gotten to the October surprise yet.
Ben from Iowa writes:
It means that the people of those states voted for Hillary Clinton and NOT against Barack Obama like the talking heads have been babbling about. Now they are voting FOR Obama. Surprise, surprise - the talking heads inaccurately interpreted the common man's actions again.
Joanne writes:
Obama's lead in these three states means nothing. I'm a Democrat from Pennsylvania, so don't let the polls fool you. I'm more convinced than ever that Obama is not the person to lead this country in these difficult times.
Harry from Kentucky writes:
You and Wolf have something to talk about for another week!
Karen writes:
It means that Obama will probably win Pennsylvania and Ohio, and the Supreme Court will give Florida to McCain.