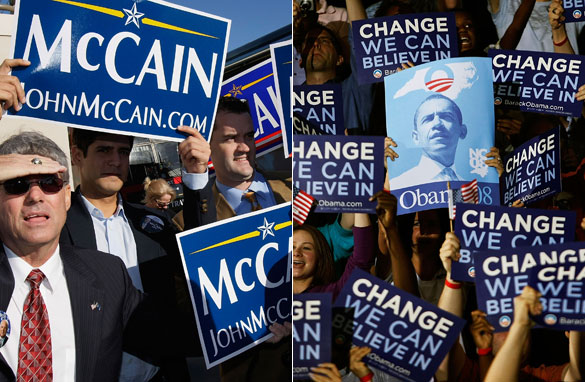 (PHOTO CREDIT: GETTY IMAGE)
FROM CNN's Jack Cafferty:
The interest in this year's presidential election is something we haven't seen in a very long time. Record turnouts for the primaries, young people involved on a scale that's unprecedented, hundreds of thousands of new voters. TV ratings for the primaries reflected a ravenous appetite – especially for the seemingly never-ending Democratic primary contests. The run for the White House this time has been relentless.
Ordinarily, the primaries wrap up early, and the country hits the snooze button on politics until the conventions later in the summer. Interest in the general election traditionally doesn't even exist until sometime after Labor Day. But not this time. There will be no recess. It's all politics all the time right through to November.
It's a reasonable bet that you will become so sick of Obama and McCain by the fall that Mickey Mouse might stand a chance as a write-in. And while it's tempting to make light of this marathon, nevertheless it's very healthy for our country.
The reason Washington D.C. has become the dysfunctional cesspool it has is because we have allowed it to. Maybe this election we stand a chance of getting it right.
But don't kid yourself… there's a lot of pain ahead.
Here's my question to you: How do you plan to survive the presidential campaign?
Interested to know which ones made it on air?
Maria from Las Vegas writes:
Jack, I don't honestly know how I'll survive let alone get any work done. Ever since the primaries, I feel like I haven't worked at all. And yet, my business is booming. I only pay for gas once a month, watch CNN all the time or go online like a political junkie. I've changed my status to Independent (from Republican) and my family is happier than it's ever been. I think I better continue what I'm doing, vote for Obama...and keep watching CNN.
Jeff from Hanover, Pennsylvania writes:
I am worried deeply about it. I actually like some of what Obama represents and I like some of what McCain represents. And that's what worries me. I will probably have to stay tuned to all of the shameless campaign rhetoric all summer and early fall to make the important decision. I am worried because that will make me ill.
Jack from Las Vegas writes:
Jack, Like a passenger on a sinking boat 10 miles offshore, I know that the swim will be tough, but if I don't focus and swim like hell, I won't survive at all. That's how important this election is and why, although it won't be easy, paying attention will be worth it for all of us.
Mwita from Los Angeles writes:
Glued to CNN like Pavlov's dogs, salivating every time John King touches the big board.
David from Jacksonville, Florida writes:
Everything is cool, Jack. Beer is cheaper than gas. I'm bound to make it through.
L.A. from Boston writes:
Jack, I plan on getting through it just by watching you and Wolf debate the issues that arise. You complain and Wolf tries to calm you down. It's really fun to watch. Missed you yesterday, hope you had an enjoyable day off and didn't worry about Hillary, Barack or John while you were out.
Ray from Florida writes:
Self-medication, Jack!