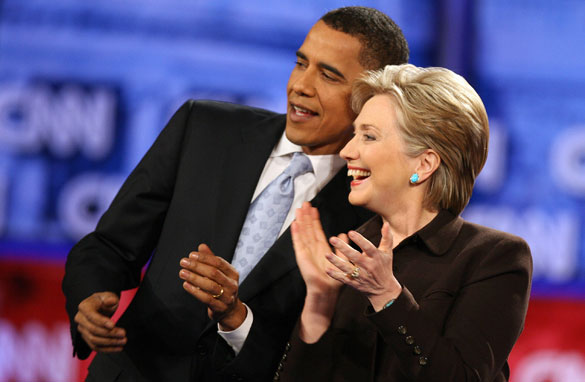 (PHOTO CREDIT: GETTY IMAGES)
FROM CNN's Jack Cafferty:
Barack Obama and Hillary Clinton are set to appear together next week in Washington – side-by-side – for the first time since the long and sometimes nasty primary battle came to an end. It's an important moment, since some Democrats are still bitter about the way it ended.
The two will meet to try to get some of Clinton's top contributors to support Obama. Some of Clinton's supporters say that fund-raisers have complained because they don't think their concerns were being heard during meetings with the Obama camp. The donors apparently want to make sure Obama knows he needs to help Clinton pay down her campaign debt – estimated at more than $20 million – if he wants their support.
Other Clinton backers steamed that Obama hired ousted Clinton campaign manager Patti Solis Doyle to be the chief of staff for his eventual vice presidential nominee.
And, more tensions boiled up yesterday at an Obama rally when former Clinton supporter and Michigan Governor Jennifer Granholm mentioned Clinton's name, and drew loud boos from the crowd. Obama shut that down and made very clear to the 20,000 people at the rally that Senator Clinton deserves respect.
Aides say Obama and Clinton have not met or spoken since that private meeting in Washington a couple weeks back, but the campaigns are reportedly cooperating as Obama gears up for the general election. One Clinton fundraiser suggests there's no rift and it will just take some time to heal from the primary.
Here's my question to you: What do Hillary Clinton and Barack Obama need to do in their first joint appearance to unite the party?
Interested to know which ones made it on air?

Donna from Colorado Springs writes:
I think that Obama and Clinton need to back off for a while and let things cool off. The sore losers that belong to Clinton need to get over their anger and logically look at the alternative. Is it really worth having another 4 or 8 years of Bush by voting for McCain?
Susan from Pennsylvania writes:
If Obama's campaign wants Hillary's people on board, they need to get over themselves and not be vindictive. Nobody put up with more abuse from all sides than Hillary. She got a lot of votes. Votes that Obama needs. So respect her for the fight, for doing what she did for women of all ages and welcome her people with open arms. He's going to need the help.
Dan from Phoenix writes:
Hillary got in debt without help. She should now pay her own bills and Obama should not contribute anything. In regard to her own ego, she has helped destroy the party, and Obama should just ignore her.
Emma from San Jose, California writes:
Focus extensively on the negative effects of Bush and McCain's policies. Also, Hillary should encourage her supporters to refrain from voting for McCain.
Erica from Texas writes:
Hi Jack, I think the best way for them to show unity is to come out with Bill, Chelsea, Michelle and the kids all holding hands. Then Senator Obama should give Hillary a kiss on the cheek and a hug! She needs one!
Patrick writes:
Unite. The Democrats unite. Surely you jest! Remember this, "I belong to no organized party. I am a Democrat".