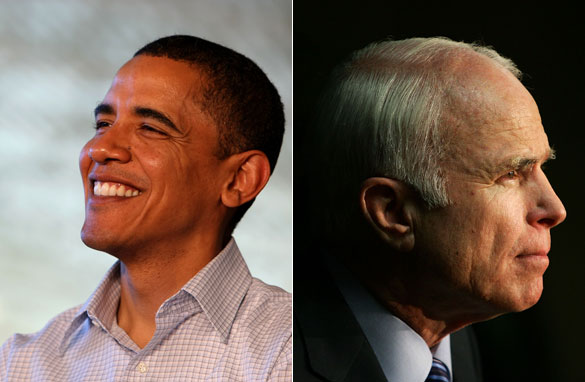 (PHOTO CREDIT: GETTY IMAGES)
FROM CNN's Jack Cafferty:
Independent voters are crucial in presidential elections. You can bet John McCain and Barack Obama will do everything in their power to get their support.
A new Washington Post-ABC News poll shows that McCain and Obama are even among independents – which suggests a shift towards McCain in the past month.
When it comes to the issues, independents see McCain as more credible on fighting terrorism and they're split evenly on who is the stronger leader and who is better on the war in Iraq. However, 62% of independents polled say the Iraq war is "not worth fighting."
Obama has a double-digit advantage among independents on many domestic issues including: the economy – which is the nation's No. 1 issue, gas prices, health care, global warming, and women's issues.
In recent elections, Democratic and Republican voters have overwhelmingly supported their party's candidate. But this time around those identifying themselves as Democrats far outnumber Republicans, which could spell trouble for McCain. It means he will have to attract a larger percentage of independent votes in order to win.
A couple of other factors working against McCain in this poll: people are more unhappy than ever with the direction this country is going. 84% say we're seriously on the wrong track. Also, when asked which party they favor for Congress in the fall, 52% say Democrat, only 37% say Republican.
Here's my question to you: What will John McCain and Barack Obama have to do to win over independents?
Interested to know which ones made it on air?

Kay from West Virginia writes:
Independents will favor the candidate who speaks truth and talks about the hard choices and pain that we will have to go through in order to get the country heading in the right direction. The more either candidate speaks of 'quick fixes' or 'bread and circuses', the more independents will pull away from them.
JT writes:
McCain's best chance of getting support from independents is to be an independent. He used to be a maverick, an independent thinker, but then he started going after the far right and following party line. For Obama, it will be easier.
Elaine writes:
I am an independent and I'm voting for John McCain. Obama's inexperience, associates of the past 20 years and his extremely liberal views frighten me.
Ellena writes:
I am an independent and the main issues to me are: securing our border (I live in Arizona), fixing the economy, improving our image in other parts of the world and fixing health care.
Nancy from Grand Ledge, Michigan writes:
Obama has to sit back and let McCain keep talking. People will soon realize how out of touch McCain is and how mixed up he gets the facts. He will show himself to be Bush all over again! Obama will win by a landslide.
Tiffany writes:
If Barack Obama is going to win over independents, he will have to be able to address people's concerns with his lack of experience by presenting a workable and detailed plan regarding Iraq and helping the economy with widespread bipartisan support. His choice of a foreign policy strong V.P. will also be critical.
Kurtis from Udall, Kansas writes:
It's simple really, Jack. They'll both have to demonstrate that they love their country more than their political party. So far, I'm not sure either one has done that.