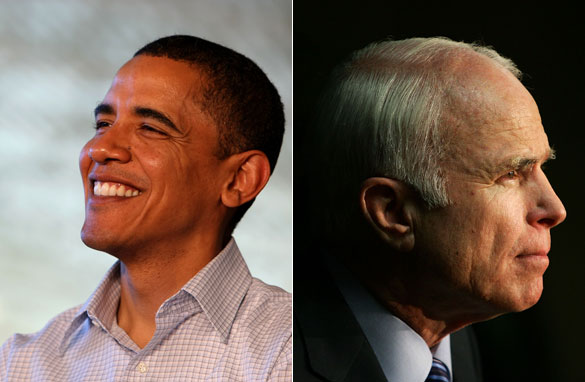 (PHOTO CREDIT: GETTY IMAGES)
FROM CNN's Jack Cafferty:
Independent voters are crucial in presidential elections. You can bet John McCain and Barack Obama will do everything in their power to get their support.
A new Washington Post-ABC News poll shows that McCain and Obama are even among independents – which suggests a shift towards McCain in the past month.
When it comes to the issues, independents see McCain as more credible on fighting terrorism and they're split evenly on who is the stronger leader and who is better on the war in Iraq. However, 62% of independents polled say the Iraq war is "not worth fighting."
Obama has a double-digit advantage among independents on many domestic issues including: the economy – which is the nation's No. 1 issue, gas prices, health care, global warming, and women's issues.
In recent elections, Democratic and Republican voters have overwhelmingly supported their party's candidate. But this time around those identifying themselves as Democrats far outnumber Republicans, which could spell trouble for McCain. It means he will have to attract a larger percentage of independent votes in order to win.
A couple of other factors working against McCain in this poll: people are more unhappy than ever with the direction this country is going. 84% say we're seriously on the wrong track. Also, when asked which party they favor for Congress in the fall, 52% say Democrat, only 37% say Republican.
Here's my question to you: What will John McCain and Barack Obama have to do to win over independents?
Interested to know which ones made it on air?