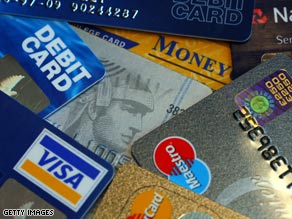 FROM CNN's Jack Cafferty:
Buy now, pay later... seems to be the American way.
A new Gallup poll takes a look at Americans' habits when it comes to their credit cards. When asked how they pay their credit card bills each month, 43% of those surveyed say they always pay the full amount. 17% say they usually do. 25% say they usually leave a balance, and 12% say they usually pay the minimum amount due. Only 1% pay less than the minimum. Credit-card holders have an average of about 4 cards.
When it comes to those who carry a balance, 30% say they have a balance of more than $2,000. 19% have a balance of more than $5,000, and 9% say more than $10,000.
The good news is people might be getting a little smarter about using their plastic. In April, the Fed said consumers actually used their credit cards less. And the poll found that the percentage of people who say they leave a balance or make the minimum payment on their credit cards has actually gone down over the past few years.
This suggests that the shaky economy has more people thinking twice before whipping out their charge card. But it's also a difficult situation for millions of people trying to figure out how to make ends meet. Just today the government reported the cost of living rose for Americans last month. Inflation increased 4.2%, led by surging energy costs.
Here's my question to you: How would you describe your relationship with your credit cards?
Interested to know which ones made it on air?

JC writes:
Use it when we absolutely need it and pay it off at the end of the month. It's really simple: we own it, it doesn't own us. And we are not in debt to the legal loan shark system.
Shirley from Ohio writes:
Jack, my credit card relationship has been over since my college years. I now have a new relationship with my debit card which I must say I am still in.
Vern from Anaheim, California writes:
Jack, Not good. I'm one of those who overcharged on credit cards and will be paying them off for some time. It's too easy to get them and I like most people didn't pay attention to what I was buying on them. It is much better to pay cash for something you buy and if you don't have enough to pay cash don't buy it.
Diane from Melbourne, Florida writes:
I've broken all ties to credit cards. Living within my means is more important to me than "stuff". And I'm trying to set a good example for my government.
Deb writes:
I'm on Social Security disability of $908 per month. Every month, I find myself relying more on my credit card for taxes, insurance, medical costs and other emergencies. Each month, there seems to be a new emergency. I pay as much over the minimum each month as I can and seem to be falling into the debt hole more each month.
Dave from Queens, New York writes:
My credit cards keep to themselves. We don't associate with the same circle of friends. It's not that they are particularly weird or nerdy, it just doesn't seem right for me hang with them or their kind. I'd like to think I'm not too harsh with them, but they will turn on me on occasion and it leaves a bad taste in my mouth.
John from San Diego writes:
Jack, My relationship with my credit cards is the same as my relationship with my ex- wife: I've gotten rid of both and I'm infinitely happier for it.
J.R. from Arkansas writes:
You're not a bill collector, are you?