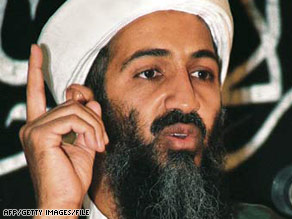 FROM CNN's Jack Cafferty:
President Bush has reportedly ordered a final attempt to capture Osama bin Laden before he leaves office.
The Times of London reports that the president has enlisted British special forces to help get the job done. Sources in both Washington and London confirm to the newspaper that a renewed hunt is under way. One source says: "If President Bush can say he killed Saddam Hussein and captured bin Laden, he can claim to have left the world a safer place."
British special forces have been participating in U.S. operations to catch the terrorist leader in northern Pakistan, but it's the first time they're crossing into Afghanistan regularly.
Of course, no one knows where Osama bin Laden is. He has eluded capture for almost seven years now. Some experts think he's in the tribal areas of northwest Pakistan. One Pentagon source says that U.S. forces are trying to push al Qaeda in Pakistan toward the Afghan border, where they'd have a better shot at catching him.
But, the increase in U.S. military action is not sitting well with the Pakistanis. Last week, they were outraged about what they claimed was an airstrike on a border post with Afghanistan that killed 11 of its troops. The U.S. says it's still "not exactly clear" what happened.
Here's my question to you: President Bush wants Osama bin Laden captured before leaving office. How important is it at this point?
Interested to know which ones made it on air?

Craig from Hiram Rapids, Ohio writes:
Jack, The most important thing at this point is to humor junior so he won't throw a fit. Have the C.I.A. show him some really cool photographs "taken all the way from space". Gee whiz. Then quietly put him to bed early before he blows something else up. He will have forgotten all about it in the morning.
Will from San Jose, California writes:
Osama is a lot more important then Saddam ever was. Osama has been responsible or at least taken credit for attacks on U.S. embassies in Africa, attacks on U.S. soldiers in Mogadishu, the attack on the USS Cole, and the attacks of 9/11. When was it that Saddam attacked us again?
K. from United Kingdom writes:
Forget capturing or killing bin Laden. George Bush would be able to claim that he left the world a better and safer place by standing down as president of the United States...today!
Tom from Massachusetts writes:
Bin Laden will rot in a cave. If we kill him, hundreds of terrorists behind him will take his place. Focus more on homeland security, the economy, health care and the dozens of other problems our country is facing.
Phil writes:
Of course he does, it's all in the Republican playbook during an election year: catch bin Laden, Bush's Saudi friends will lower gas costs by putting more on the market, they'll finally put the 9-11 masterminds on trial… all just to boost their candidate for election. Sounds like kindergarten 101.
Dick writes:
Killing bin Laden will bring about an end to the war on terror just like killing Saddam brought peace to Iraq.