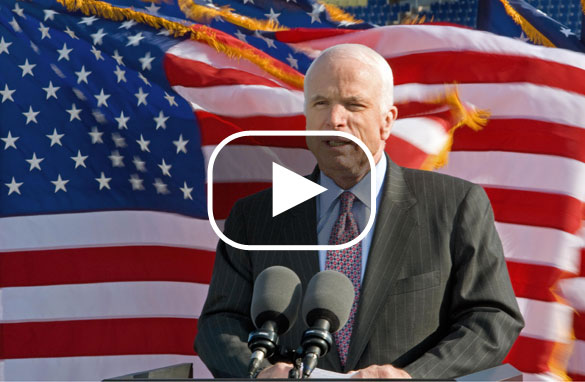 Click the Play Button to see what Jack and our viewers had to say. (PHOTO CREDIT: GETTY IMAGES)
FROM CNN's Jack Cafferty:
Don't bet on John McCain being the next president… that's the message coming from several presidential scholars.
The Politico reports these historians paint a bleak picture for the Republican candidate. They also say Barack Obama has the best chance of any Democrat perhaps since FDR beat Herbert Hoover in 1932.
The historians say it should be "an overwhelming Democratic victory," noting McCain is facing one of the worst political environments for the party in power since World War II.
There's also this: only twice in the 20th century did the candidate from the same party as a two-term president go on to win the White House. The last time was in 1988, when President Bush's father replaced Ronald Reagan... but Reagan was twice as popular as the current president is now.
But McCain does have some advantages, including the fact that a lot of people don't see him as a traditional Republican. Also, McCain could appeal more to moderates than Obama. If the public ends up seeing the Democrat as "far left." And, McCain might benefit from leftover divisions in the Democratic Party from the primary.
Meanwhile, a new Gallup poll suggests the American people agree with these historians: 52% of those surveyed think Obama will win, regardless of who they support. 41% say McCain.
And the world is weighing in too: a Pew poll – of 25,000 people in 24 countries – found that in all but two nations, people put more faith in Obama than in McCain to "do the right thing" when it comes to world affairs. One of the two exceptions: the United States.
Here's my question to you: Many historians doubt John McCain stands much of a chance in November. How can he change their minds?
Interested to know which ones made it on air?

Jerry from Roselle, Illinois writes:
As long as McCain keeps showing up in photos standing next to Joe Lieberman, Obama has no problems.
Burt from Denver writes:
McCain needs to be himself. He's a survivor. He's built a career as the "maverick", but it wasn't until he played the GOP's game that he won the nomination. Now it's time for him to graciously say "thank you" to the GOP – and be the maverick he really is. That's how he can win the centrists. (A nice VP pick like Huckabee could shore up the conservatives.)
Paul from Columbia, South Carolina writes:
Historians with crystal balls? Let's deal with events as they happen. This is just more liberal jibberish.
Marta from Florida writes:
Now that Gore has announced he will endorse Obama at the rally tonight in Michigan, it's all over for McCain. Between the numbers of registered Democrats, the big name superdelegates in Obama's corner, and the HUGE, grassroots technological machine behind Obama, McCain doesn't stand a ghost of a chance of winning.
Harry writes:
By pointing out Obama's extreme liberal record, his extreme liberal positions, his total absence of any bipartisan work, his lack of any managerial experience. This is McCain's only path to victory, barring any major mistake by Obama.
Wesley from Fredericksburg, Virginia writes:
He has to make his appeal to the middle class and not the corporations. He has shown that he will do little for us. He does not support government assistance for health care for children. He does not support Jim Webb's GI bill. He only seems to care about winning in Iraq. I can not see him winning in the general election.
Dan from Pennsylvania writes:
To change my mind he would have to support Dennis Kucinich in his drive to impeach George W. Bush!
Linda from Woodbury, New Jersey writes:
Are these the same historians and pundits that predicted what would happen in New Hampshire?