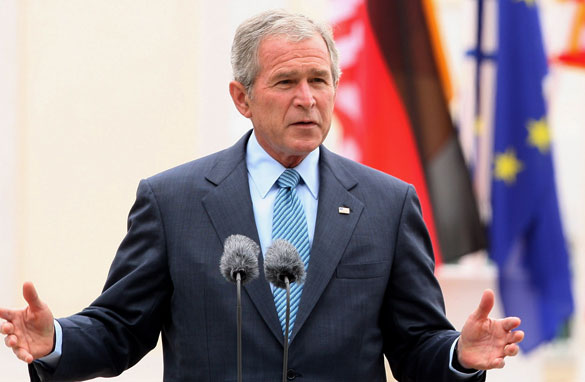 (PHOTO CREDIT: GETTY IMAGES)
FROM CNN's Jack Cafferty:
The House of Representatives has voted to send an impeachment resolution against President Bush to committee – where it's likely to die.
Congressman Dennis Kucinich introduced the 35 articles of impeachment this week. Most of the resolution focuses on the Iraq war but also charges the president with illegally detaining both U.S. citizens and foreign captives, condoning torture and mishandling the response to Hurricane Katrina.
But Congress doesn't want to hear it. They voted largely along party lines – 255 to 166 – to send the resolution to the House Judiciary Committee. This is exactly what happened to Kucinich's impeachment articles against Vice President Cheney last year. Congress sent that resolution to this same committee in November. So far, no action has been taken. Congress continues to refuse to exercise its constitutional responsibility of oversight of the executive branch of government.
House Speaker Nancy Pelosi long ago made it known that impeachment is "off the table." This is a joke. We have a president who has abused the power of his office over and over again. It's what got the Democrats elected to the majority in Congress in 2006. Now it's election time again, and every member of the House is up for re-election in November. The Democrats are probably worried what it will look like to many voters if they spend time on impeachment.
Which is why Republicans voted yesterday to bring Kucinich's resolution up for debate immediately – to make the Democrats look silly for focusing on this instead of gas prices, the economy, etc.
Here's my question to you:What does it mean when Congress refuses to even consider 35 articles of impeachment against President Bush?
Interested to know which ones made it on air?

Bruce from St. Paul, Minnesota writes:
If this happened in a family, Ms. Pelosi would be called an enabler and sent to family counseling. This has been the greatest abuse of power since Reagan didn't sell weapons to Iran, give money to the Contras, or remember anything about it. To ignore it for political expediency only makes Congress an accomplice. It sends a message that abuse of privilege and government corruption are just business as usual. We deserve better.
Allison from San Diego writes:
I wouldn't mind seeing the Democrats debating impeachment and it wouldn't seem like a waste of time to me, even at this late date. Seems to me it would be better to make a statement that we will not allow another inept president to run this country and our Constitution into the ground.
B. writes:
Congress abrogated its constitutional role as the third branch of government shortly after 9/11 by giving Bush a free pass and refusing to act as a proper check and balance to the power of the presidency. The Democrats had a chance to put Congress back in play when they gained a majority but they let the opportunity slip away. Impeachment would expose Congress' voluntary impotence and shortcomings at a time when they are focused on winning the upcoming election.
Cindy writes:
Because Bush is a lame duck anyway. The damage is done, spending time discussing things in the past takes away time spent on the future… I think history will not look kindly on the Bush administration. The almost-impeachment of Nixon is remembered more than the actual impeachment of Clinton. Basically, Bush is already sunk in history, with or without actual impeachment.
Robert writes:
Jack, As long as Bush is in office, the Democrats have the presidential election locked up. It's kind of sad really. But it's the political reality.
James from Florida writes:
Dear Jack, Please don't let McCain veto our beers.