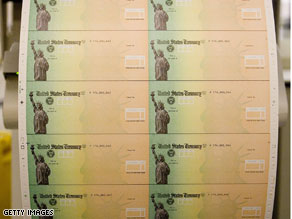 FROM CNN's Jack Cafferty:
Guess who's paying for that $170 billion economic stimulus package? Our children.
Those rebate checks meant to stimulate the economy helped push the federal budget deficit to $166 billion last month, a record high for the month of May. The Treasury Department says this May deficit was more than double what it was last year.
During last month, $48 billion in stimulus checks went out as part of an effort to revive the economy. This stimulus package was actually something that prompted Democrats and Republicans to work together. They settled on checks of $600 for individuals who earn less than $75,000 and $1,200 for married taxpayers who earn less than $150,000 together.
The Bush administration estimated earlier this year that the deficit would be $410 billion, but many private economists believe it will be higher, possibly topping the all-time high of $413 billion set in 2004. And remember, the deficit numbers reported by the government don't include the cost of the war in Iraq, estimated between $150 billion and $200 billion a year.
The largest increase in retail sales in six months in May is an indication people are spending those rebate checks. The increase was double what economists were expecting. But it's likely only temporary.
The point is this is all borrowed money that's being used for the rebate checks. Money that will someday have to be repaid – probably by our children or grandchildren.
Here's my question to you: Is it fair for the government to make our children pay for the economic stimulus package?
Interested to know which ones made it on air?

Jesse from Seattle writes:
Hi Jack, What's new about this? This generation has no intention of paying for its lifestyle or problems. It is the story of the last 100 years: the children pay for the crimes of their parents. If the government really wanted to put their policies to the test of the future, then they should drop the voting age to 16...I bet you $100 that if the withering politicians of today had to be responsible to the children of today that they would have a very different attitude.
James writes:
No, It's not fair, Jack, which is why I did the only responsible thing I could think of: I added the money to my granddaughter's college fund. As long as her generation is going to have to pay for it, she ought to be able to at least benefit from it.
Jerry writes:
Of course it's fair to pass this debt along to the kids! Have you seen the children of today? Everything is handed to them, they are spoiled, pampered, fat, lazy, rude and addicted to video games and their iPods. Maybe this little "rude awakening" is just what these little kids need!
Laura from Maplewood, New Jersey writes:
Fair? No. But I'd rather have them pay for a misguided "stimulus plan" than a misguided war. The real question is how Republicans get away with calling themselves fiscally responsible when we all know who was in charge the last time the deficit was under control.
Greg writes:
Massive borrowing against the future, living beyond our means, spending like there's no tomorrow, leaving the bill for our children... Is it fair? Well, no, probably not. But it is the American way.
K. from Bronx, New York writes:
Our children are already in line to inherit trillions of dollars in debt. What's another couple billion? Besides, mom needs a spa treatment and Dad needs some new clubs.
Larry writes:
Kids? What kids? I'm not going to have kids for just this reason.