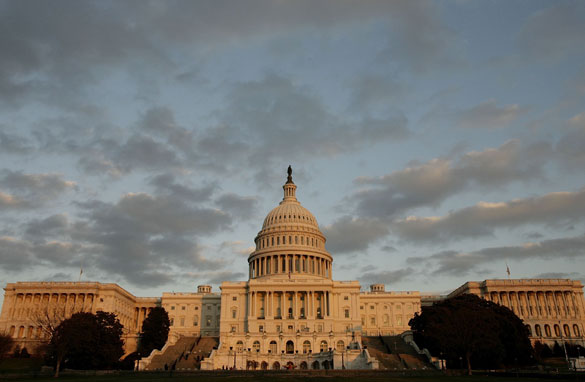 (PHOTO CREDIT: GETTY IMAGES)
FROM CNN's Jack Cafferty:
You can almost smell when it's election time in Washington D.C., that's when the politicians start making lots of noise about the issues that actually affect millions of Americans. The rest of the time it's all about them, their lobbyist buddies and the special interests. But for a few months before we vote, they pretend to care.
This time around, it's all about skyrocketing gas prices and the shaky economy. The Democrats joined together yesterday in going after Republicans about soaring energy costs. After Senate Republicans blocked debate on bills that would extend tax incentives for alternative power sources and put new taxes on oil companies. Majority Leader Harry Reid took to the floor to say: "This is framed with the picture of a presidential campaign going on."
But Republicans are standing their ground. They say the bills were shortsighted, that the Democrats aren't doing anything about lowering the cost of gasoline immediately and they refuse to open more domestic areas to oil production. House Republicans also reminded voters that the Democrats have been in charge of Congress for the past year and a half as gas prices have soared.
Meanwhile, members of both parties are in constant communication with their respective presidential nominees. This probably means there's a whole lot of coordination going on as lawmakers speak out about these issues that are hitting Americans' pocketbooks hard. You can be sure they're all focused on their candidate winning the White House and hopefully providing long enough coattails so those who are up for re-election in Congress don't get thrown out on their ear.
Here's my question to you: Is anything more important to Congress than being re-elected?
Interested to know which ones made it on air?

Robert from Long Beach, California writes:
There better be something other than re-election on the minds of incumbents. Change is in the air, and maybe some of them will not be re-elected.
Jon writes:
As with many situations, you have to look at each individual. There are certainly members of Congress who put re-election as priority #1. However, I believe there are congressional members who truly stick up for what they believe is right for this country, even if it is not popular with their voters.
F. from Minnesota writes:
Getting a lobbying position in some blood-sucking industry.
Tony writes:
Apparently nothing is more important than re-election to Congress. Not fixing the economy, not resolving the oil crisis or the weak dollar. Just padding their pockets by adding personal earmarks to bills and promoting their party to recapture the White House. We Americans deserve the politicians we have because we keep putting them back in power.
Deano writes:
Nothing is more important. Run, get elected, keep big business happy as long as you can stay in office, then call in favors to get that pot at the end of the rainbow job after being kicked out of office. The longer they can keep getting reelected, the more they can kiss up to big business and grab the better post-civil service job.
Andi writes:
Of course the only thing the politicians care about is being re-elected. Otherwise, why would they let the administration walk all over our civil rights, torture prisoners, and lead us into illegal wars without ever calling for impeachment? At what point did getting re-elected trump the honor of representing our country with honor and dignity?
Mike from New York writes:
Maybe sex and money. But, all that stuff seems to go hand in hand with re-election.