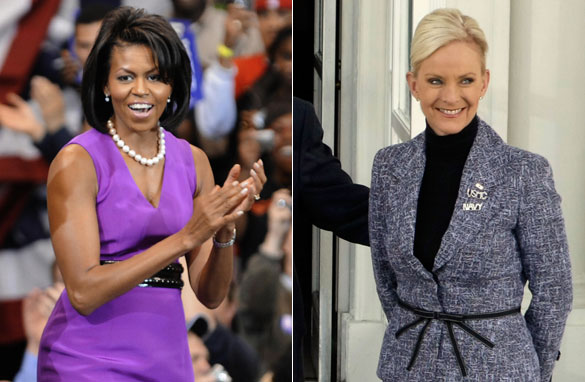 Michelle Obama and Cindy McCain. (PHOTO CREDIT: GETTY IMAGES)
FROM CNN's Jack Cafferty:
The Democrats and Republicans might be settled on their nominees now, but that doesn't mean Barack Obama and John McCain are the only ones in the spotlight.
Maureen Dowd writes in her New York Times column called "Mincing up Michelle" that now that HIllary Clinton is out of the race, the Republican machine can turn its full attention to demonizing Michelle Obama. "She is the new, unwilling contestant in Round Two of the sulfurous national game of "'Kill the witch.'"
There are web sites dedicated to portraying Michelle as a female version of the Reverend Jeremiah Wright, a recent cover of the National Review called her "Mrs. Grievance" and one popular conservative blogger described her as "Obama's bitter half."
Michelle Obama stirred controversy last February when she said, "For the first time in my adult lifetime, I am really proud of my country." The campaign clarified that she meant she was proud of the participation of thousands of Americans, but it still led to accusations that she was unpatriotic.
Cindy McCain has also drawn criticism. When she first refused to release her tax returns, some said that wasn't consistent with her husband's message of openness. Mrs. McCain has also talked about her addiction to painkillers in the early 90s, and how she initially kept it secret from her husband and family.
So what is fair game when it comes to the nominees' spouses? After Tennessee Republicans recently went after Michelle, Barack Obama said they should "lay off" his wife. But it's not the first time critics have picked on potential first ladies: Judy Giuliani was the subject of several nasty profiles showing her as a social climber and husband-stealer. And of course, Hillary Clinton was slammed after her 1992 comment about staying home and baking cookies.
Here's my question to you: Should Michelle Obama and Cindy McCain be off-limits during the campaign?
Interested to know which ones made it on air?
Linda writes:
They should be looked at very closely. After all, they will hear sensitive information and their views will be heard around the world. Do you want someone to go to another country on behalf of the U.S. without knowing what type person they are? The country will be judged by their presentation.
Mary writes:
I am a Barack supporter, but I think Michelle can handle a little scrutiny. She does tend to be too strong and overly confident, not a good quality for a first lady. A little scrutiny will serve to smooth her rough edges and not hurt her husband's campaign. I think Michelle and Cindy should be under the spotlight a bit more just to refine them.
John writes:
This is exactly why we have the leaders we have. No one with any brains would want to leave a secure position with a good company to join the gang of lizards we call our leaders. Elect a president by encouraging the best minds to run. They will not with the way their lives are turned upside down today. Therefore, we get what we get: 3rd rate lawyers and other has-beens and do-nothings.
Patrick from Virginia writes:
Frankly, I hope that the American people are seeing that a new breed of politics is emerging in this election cycle – one in which the voting public is
Steve from Idaho writes:
It depends, Jack. If it's something they say regarding the candidate and his policies, then it's fair game. But if it is something about their personal character or something they said or did in their past, it's not relevant because they are not running for president.
The BEST political viewer of television from Texas writes:
Not as long as they get in front of the cameras and reporters.
Tim from Toledo, Ohio writes:
Off limits? Not a chance! There's a good chance they may run for president some day!