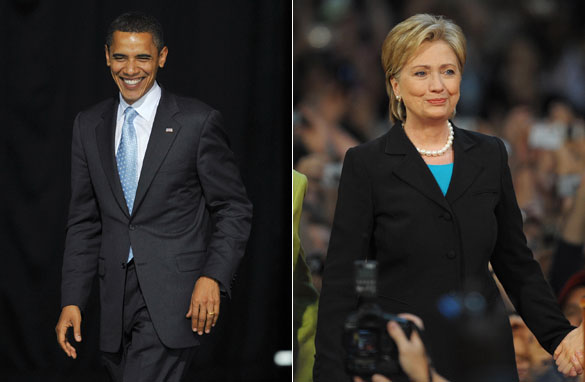 Sen. Hillary Clinton lent $11.4 million of her own money to her campaign.(PHOTO CREDIT: GETTY IMAGES)
FROM CNN's Jack Cafferty:
Hillary Clinton is out of the race for president, but she's not out of the red. Far from it.
In fact, it's believed Clinton has the largest presidential campaign debt in history. Recent filings show Senator Clinton loaned her campaign $11.4 million of her own money, and she also owes vendors about $9.5 million. That's at least $20 million.
Other wealthier candidates, like Mitt Romney, have loaned themselves more money... but they don't always plan on getting it back. Clinton also has to deal with both the personal loan and the unpaid bills. One campaign finance lawyer tells the New York Times that Clinton's debt is "unprecedented." Other candidates who have lost have owed less than half the amount she owes to businesses.
So what exactly are Clinton's options? The good news for her is her campaign says it's raised about $1 million since the final primaries last week. That suggests some supporters may be committed enough to help out with her bills.
The other possibility floated around is for Barack Obama to pitch in. Although campaign finance laws prohibit him from transferring money from his campaign to hers... his campaign could ask supporters to chip in or he could hold fund-raisers on her behalf.
But not everyone is sure this is the way to go. Some Obama fund-raisers say it will be tough to help out Clinton because they're already raising money for Obama and for the DNC. Others say the tensions from the primary race could make it more difficult. But if Obama does help Clinton, it could go a long way toward getting her – and her supporters – on board his run for president.
Here's my question to you: Would it be a good idea for Barack Obama to help Hillary Clinton repay her campaign debt?
Interested to know which ones made it on air?
Shane from Montreal writes:
Absolutely not! This woman is supposedly more qualified than Obama to be president but she can't even manage her own 5-month campaign and many of her die-hard supporters have been downright vindictive towards Obama. He owes her squat!
Ray writes:
I think it would be a smart and unifying move for Barack Obama to ask his donors to help Clinton. I swore I would never give a dime to Clinton again after the negative campaigning of the primary, but if Barack asks me, I will give her some money.
Betty from Alabama writes:
She should have to pay him for all the ads the Republicans are running in my state featuring Hillary bad-mouthing Barack. I just saw one. It's awful that she gave the GOP so much free "swift-boat" info. No, he should not help her at all. She has hurt him and continues to.
Buster from Poughkeepsie, New York writes:
The correct answer to this query is nope, nada, not at all. Barack may look presidential but he sure doesn't look anything like an ATM machine. Memo to Hillary: His name is Barack Obama, not Bank of America.
Jonathan from Hartford, Connecticut writes:
Of course Obama should help Hillary pay off her debt. It's all in the Democratic family. He is a gentleman. Hillary supporters will be moved.
Nancy from Cunningham, Tennessee writes:
I feel a book in the air. Hillary may have to write a book about the campaign this year to pay for the campaign. She could call it "One More Stop and I'll Get off the Train".