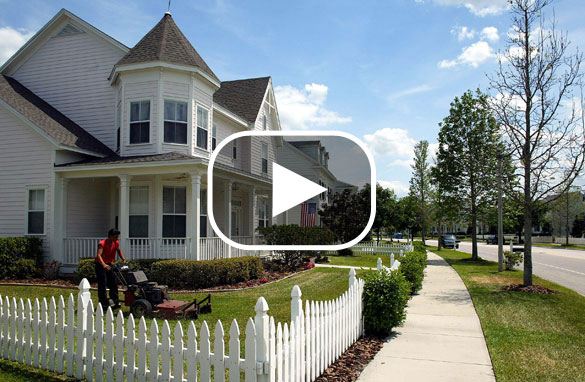 Click the Play Button to see what Jack and our viewers had to say.(PHOTO CREDIT: GETTY IMAGES)
FROM CNN's Jack Cafferty:
The American dream is becoming more of a mirage these days.
54% of Americans say their standard of living is no better today than it was five years ago, according to a new USA Today/Gallup poll. And only 45% expect their children to live better than they do. That's not the way it used to be in this country.
Today more and more Americans are struggling thanks to the housing crisis, the credit crisis, gas topping $4 a gallon, rising food prices and unsettled financial markets. From the end of the 2001 recession through last year, average household income actually dropped almost every year. That's the first time since World War II that the typical family was worse off at the end of an economic expansion than at the beginning. That's an ominous sign.
Economists say there are lots of reasons for the financial headaches including weaker unions that can't fight lower wages and more global competition. There's also been growing demand for skilled workers at a time when the typical American worker has fewer years of education.
The term "American Dream" actually was born during the Depression. Economists now refer to the period from 1945 to 1973 as the "golden age" when both the rich and poor prospered.
But that has changed. These days it's almost always been the rich who benefit from economic growth. One expert says the top 1% of American families – those earning more than $382,000 – received about three-quarters of the nation's overall growth from 2002 to 2006.
This suggests that the other 99% of the country may no longer be able to count on the idea of better times ahead. And if that's the case, we are in big, big trouble.
Here's my question to you: Is the American dream dead or just wounded?
Interested to know which ones made it on air?
Ben from Chicago writes:
Dreams never die, Jack. The "American Dream" is in a deep coma however. Due to the enormous amount of public debt and public obligations, either taxes will need to be raised across the board or the government will inflate the money supply enough to take care of the debt. Either way, the middle and lower classes will be hit the hardest. As long as public spending continues to grow, the middle and lower classes will pay for it the most, as politicians always find a way to help their friends.
Bob from Charlotte, North Carolina writes:
Jack, I just returned to the U.S. after living 5 years in a third world country. The American dream is not dead and anyone who thinks so should go live in another country for a while. It will certainly help everyone appreciate what they have here a LOT more.
Chuck from Missouri writes:
Put a fork in it. The Senate Republicans blocking the measures against excessive big oil profits and to provide more regulation on speculators today was just another demonstration that Republicans will do whatever they can to keep us on this disastrous course we've been on for some time. Anything more than a two-class system, the have-nots and the have-lots, is just unacceptable to them.
Dan from Chantilly, Virginia writes:
The point of the American dream was that you "could" make a decent living. There have never been any guarantees. Besides, the only dream that has died so far is the "I can live well beyond my means and never worry about repercussions" dream. If you work hard, get an education, and manage your money, you can still do well in this economy. The trick is to forgo luxuries every now and then.
Dick writes:
Define the "American Dream". Look, if money was everything, Jack would not be so crabby.