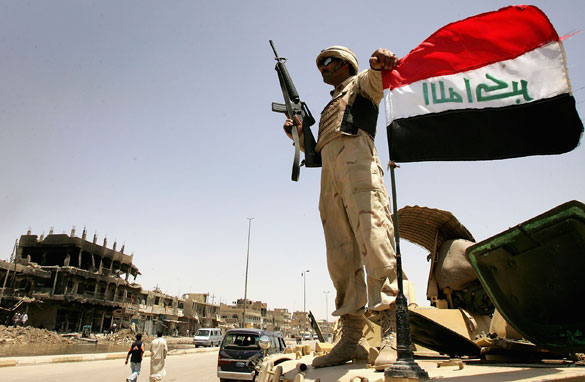 An Iraqi army soldier stands guard at a checkpoint in the Shiite district of Sadr City in Baghdad, Iraq.(PHOTO CREDIT: GETTY IMAGES)
FROM CNN's Jack Cafferty:
Now is not the time for President Bush to negotiate a long-term security agreement with Iraq – that's the message from lawmakers in both Iraq and in the U.S.
More than 30 Iraqi lawmakers who represent parties making up a majority in the Iraqi parliament sent a letter to Congress last week. They said they will reject any agreement that "is not linked to clear mechanisms" obligating U.S. troops to leave "with a declared timetable and without leaving behind any military bases, soldiers or hired fighters."
The Associated Press reports that Iraqi officials familiar with the negotiations warn that a deal is unlikely to be reached before President Bush leaves office unless the administration lets up on some of its demands that Iraqis see as giving U.S. troops way too much freedom and stepping on Iraq's sovereignty.
Here at home, both Democratic and Republican lawmakers are accusing President Bush of trying to tie the hands of the next president when it comes to Iraq. The four senior members of the Senate Foreign Relations committee sent a letter saying the administration hasn't consulted with them on this agreement and that the need for legislative approval "remains an open question."
For its part, the administration insists that this agreement is not a treaty and so it doesn't need to be approved by the Senate. More of the same from George Bush. Do whatever you want whether the people think it's a good idea or not. Officials say the deal won't commit U-S troops to staying in Iraq, won't create permanent bases, and won't pledge to protect Iraq if invaded. Here's the problem: the U.N. mandate that authorizes U.S. presence in Iraq expires in December.
Here's my question to you: Should President Bush be negotiating a long-term security agreement with Iraq?
Interested to know which ones made it on air?
Jerry from Tulsa, Oklahoma writes:
President Bush will try to do an end run around Congress and make a long-term deal with Iraq, but his 32% approval rating will tackle him for a loss.
Jeff from Galena, Missouri writes:
He can negotiate anything he wants to. Whatever it is, it should be mandatory that it passes Congress.
Bob from Virginia writes:
I think Bush should start negotiating his way out of impeachment trials.
Loren writes:
No. He has single-handedly done enough damage in the Middle East and to the long-term interests of our country. Early in his administration, Bush should have adopted the Hippocratic oath, "first, do no harm." It is far too late for that now.
Marie writes:
It would just be a parting gift to allow McCain an excuse not to correct America's involvement in Iraq. Hopefully Obama will be wise enough to dissolve any such agreements, despite the howling from Republican chickenhawks. I think the other 80% of the U.S. would support him.
Pete writes:
The only thing Bush should be doing is asking for forgiveness from the American people and the rest of the world. The best we can hope for is that he will do nothing for the rest of his term.
Joseph writes:
Absolutely not, as there is no reason to tie the hands of the next administration in this obvious attempt to dictate future policy. Oh, wait. Maybe that's the idea.