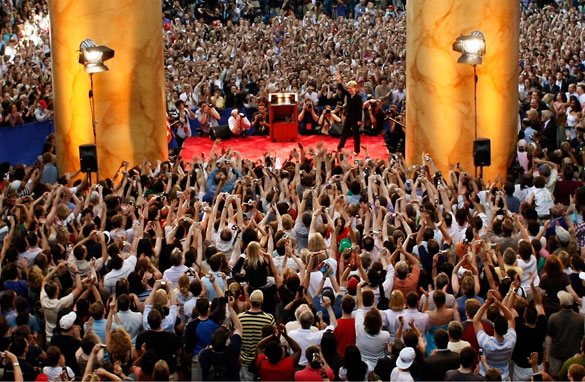 Senator Hillary Clinton speaks to supporters Saturday at the National Building Museum in Washington, DC.(PHOTO CREDIT: GETTY IMAGES)
FROM CNN's Jack Cafferty:
Hillary Clinton may be out of the race, but that doesn't mean her supporters are automatically going to flock to Barack Obama. Not by a long shot.
As she officially endorsed Obama on Saturday - Clinton urged the crowd to back Obama. When she said it, many cheered. But some supporters booed, loudly.
A CNN poll out Friday shows 60% of Clinton supporters say they'll vote for Obama, but 17% say they'll vote for Mccain and 22% say they won't vote at all.
Hillary Clinton's base includes many working-class voters as well as elderly, and of course, women voters. Clinton made a special appeal to women in her speech on Saturday, as she compared the milestones that both she and Obama had achieved in this race – as the first serious female and African-American candidates with a shot at the White House.
Obama says he's "thrilled and honored" to have Clinton's support and honors her historic campaign, saying, "She shattered barriers on behalf of my daughters and women everywhere" unquote.
There are now signs of unity online as well: Obama's web site was updated with a message that says "thank you Senator Clinton" and links to a form where visitors can write to her, and Clinton's web site now urges visitors to "support Senator Obama today."
Some Clinton supporters think the best way for Obama to get her 18 million voters is by putting her on the ticket as vice president.
Here's my question to you: What does Barack Obama have to do to win over Hillary Clinton's supporters?
Interested to know which ones made it on air?

Pablo from Arlington, Texas writes:
Jack, Obama should "talk turkey" with the Clintonistas. He, not McCain, is the fellah who will advance the same agenda Hillary stands for. With Hillary pushing in the Senate, Nancy pushing in the House and Barack pulling from 1600 Pennsylvania Avenue, the progress most of Hillary's supporters seek is all but guaranteed.
Mike from Hot Springs, Arkansas writes:
One of the main things Obama can do is keep reminding the people that he is half white. Us old white men would love to hear about his white WWII grandfather. We would love to see his white grandmother. He has spent his whole life defining his blackness – it about time he started working on the white side. If he does not, he will not win.
Lynn writes:
The only way is to put Hillary Clinton on the ticket. Come on, Jack, it is kiss and makeup time for you, too. You spent the whole primary season saying mean things about her.
Will from Los Angeles writes:
One debate between Obama and McCain will silence all of this.
Chryssa from Boise, Idaho writes:
Jack, I was shocked that Hillary didn't say anything negative about McCain in her speech Saturday. She needs to specify to her supporters why McCain is a bad idea and how his beliefs don't align with anyone who supported Hillary.
Shelby writes:
You just don't get it. So many of us older white women engaged for the first time because we felt like we might have a voice for once. Voting for Obama or McCain is nothing new - just two more men! Who cares which one of them is elected? It's just more of the same.
Colleen from Weddington, North Carolina writes:
He doesn't have to do anything to win over this N.C. Hillary supporter. It is done. The only thing he has to be is "not John McCain" or any other war-loving, fiscally clueless Republican.