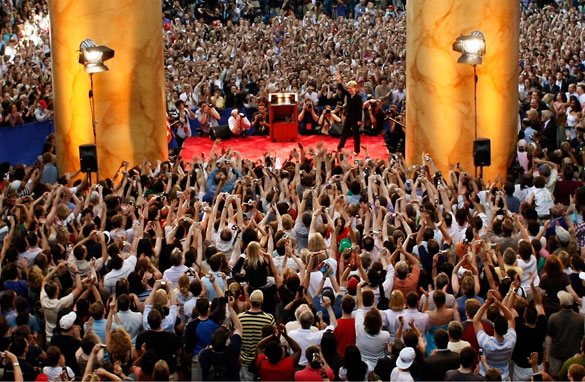 Senator Hillary Clinton speaks to supporters Saturday at the National Building Museum in Washington, DC.(PHOTO CREDIT: GETTY IMAGES)
FROM CNN's Jack Cafferty:
Hillary Clinton may be out of the race, but that doesn't mean her supporters are automatically going to flock to Barack Obama. Not by a long shot.
As she officially endorsed Obama on Saturday - Clinton urged the crowd to back Obama. When she said it, many cheered. But some supporters booed, loudly.
A CNN poll out Friday shows 60% of Clinton supporters say they'll vote for Obama, but 17% say they'll vote for Mccain and 22% say they won't vote at all.
Hillary Clinton's base includes many working-class voters as well as elderly, and of course, women voters. Clinton made a special appeal to women in her speech on Saturday, as she compared the milestones that both she and Obama had achieved in this race – as the first serious female and African-American candidates with a shot at the White House.
Obama says he's "thrilled and honored" to have Clinton's support and honors her historic campaign, saying, "She shattered barriers on behalf of my daughters and women everywhere" unquote.
There are now signs of unity online as well: Obama's web site was updated with a message that says "thank you Senator Clinton" and links to a form where visitors can write to her, and Clinton's web site now urges visitors to "support Senator Obama today."
Some Clinton supporters think the best way for Obama to get her 18 million voters is by putting her on the ticket as vice president.
Here's my question to you: What does Barack Obama have to do to win over Hillary Clinton's supporters?
Interested to know which ones made it on air?