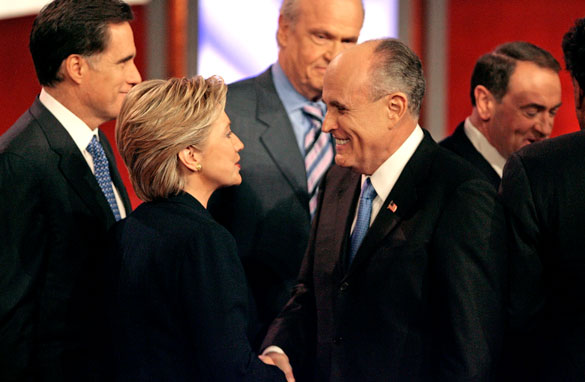 (PHOTO CREDIT: GETTY IMAGES)
FROM CNN's Jack Cafferty:
Mercifully it's finally over. Tuesday the interminable primary season breathed its last.
Republican Duncan Hunter led the parade of candidates entering the race for president in October of 2006. By the time they were all finished declaring, a small gymnasium wouldn't have held them.
It was 20 months of highlights and lowlights. It just seems longer. The drama over Michigan and Florida, the rantings of Reverend Jeremiah Wright, the flame-out of Rudy Giuliani, Hillary Clinton's fictional tale from the tarmac in Bosnia, John McCain being left for dead in the summer of '07 only to rise like the phoenix and eventually grab the nomination, Mike Huckabee who burst on the scene and disappeared almost as quickly, the dizzying disappointment that was Fred Thompson, former President Bill Clinton running through the countryside throwing hand grenades, questions about Mitt Romney's Mormonism, charges of sexism and racism... and more bowling, shot drinking and eating in diners then we ever should have been asked to watch. Except one diner, where Hillary Clinton got all teary-eyed and shocked the world by winning New Hampshire.
For the cable news networks, the primaries were ratings gold. But for the rest of the country they were more of an endurance contest. And the poor voters sat through it all: the primaries and caucuses, the debates, speeches and TV ads, the phone calls and fliers and requests to send money.
Here's my question to you: What will you miss least about the 20-month primary season?
Interested to know which ones made it on air?
Dave from Boston writes:
The thing I will miss least about the primaries is Lanny Davis, aka the Iraqi Information minister. He was fun and painful to watch, especially his constant assault on anyone who dared to argue the facts.
Nicole from Portland, Oregon writes:
Jack, as much as I enjoy your daily postings of questions to the world, I must say, I will miss the "magic map" that John King provided for us every Tuesday night of the primaries. That machine is quite impressive.
Dick writes:
I am a 'most' not a 'least' person. This is a very confusing question. It was clearly written by a frustrated person who believes the glass is always half empty. I believe in the future CNN should frame all their questions in a positive tone.
Anderson writes:
Flag pins, sniper fire, and loud reverends - though I doubt they will be gone for long.
J. in Memphis, Tennessee writes:
Jack, Nothing. Let's get on with the general election. Too bad it isn't next Tuesday so we could get a jump start at fixing this Republican mess.
Gerry writes:
What will I miss the least? The blatant attempt by the mainstream media to push Hillary Clinton to keep the story and TV ratings high. It was pathetic.
Laurel writes:
I'm glad the suspense is over. Now I can count sheep instead of delegates at night, at least until November.
Brandon writes:
Fox News.
Rocky from Chicopee, Massachusetts writes:
I will miss everything. As a 56-year-old guy who paid little attention to politics since working polls for Hubert Humphrey, I became a CNN-junkie. I talk back as much to you guys as I do to my wife, and you guys pay about as much attention.