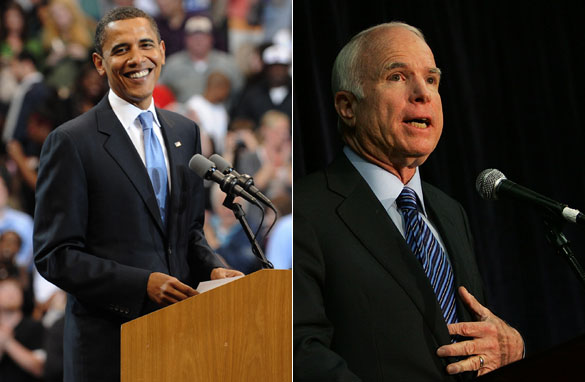 (PHOTO CREDIT: GETTY IMAGES)
FROM CNN's Jack Cafferty:
The game is on. And voters have two very different candidates to choose from to be our next president. John McCain and Barack Obama presumably won because they were the strongest candidates of their respective parties, but both men have issues they'll have to overcome if they want to win.
Exit polls from the primary season show that both candidates' problems start with the economy – the number one issue for voters this election. McCain and Obama failed to get even half the votes from people worried most about the economy.
When it comes to Republican John McCain, he has his work cut out for him. He never got strong support from the traditional Republican base – people who strongly oppose abortion, are born again or evangelical Christians, or support tough actions against illegal aliens.
Also, even though McCain gets high scores for "experience" – a quality only about 25% of Republicans were looking for, more want a candidate who shares their values – and McCain only managed to get a quarter of them.
As for Obama, he hasn't scored well among working-class whites and Hispanics – getting only about 1 in 3 of each of those group's votes. He also has to get the backing of white Democratic women who heavily supported Hillary Clinton. And, there's the question of race, and whether it will keep voters from supporting Obama. As for voters over 65 years old, that's the age group where Obama was the weakest in the primaries and where McCain did best.
Here's my question to you: What are John McCain's and Barack Obama's greatest weaknesses?
Interested to know which ones made it on air?
Roy from Idaho writes:
Obama's weakness is 20 years of Rev. Wright and McCain's is his age.
Darren writes:
Sen. John McCain: too rigid with his warmongering. Sen. Barack Obama: not enough experience, but a well-selected staff could go a long way to bettering that small cloud over the Obama administration.
Keith from Irving, Texas writes:
Unfortunately, Barack's greatest weakness is some Americans will never get past the color of his skin. McCain's greatest weakness is some Americans will never get past his age.
Kevin from Massachusetts writes:
McCain has his age and his ties to 8 years of a Republican in the White House. It is hard to propose change when you have been in the system for years. Right now, Obama has the Hillary albatross around his neck. Once you get past that, he still has race and limited time in office against him.
Michael writes:
Jack, McCain's biggest weakness is supporting the war in Iraq and flip-flopping on the Bush tax cuts... His temper and age don't help either. Obama will appear very weak if he gives into Hillary Clinton and her supporters by putting her on the ticket. Bill Clinton will also be lurking in the shadows. Obama's campaign of change will be a joke!
M. writes:
McCain's greatest weakness is his inarticulate manner of speaking. He misspeaks too often and will do poorly in the debates. Obama's greatest weakness is his articulate manner of speaking. It makes him appear elitist.
Joe from Canada writes:
McCain's biggest weakness is the current president. Americans want change. I am sorry to say, but Obama's biggest weakness is the American people. They want change, but not enough.