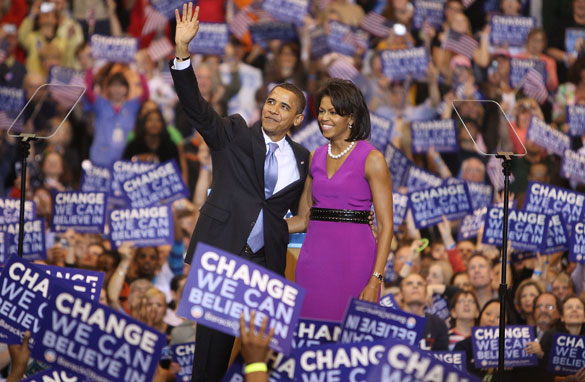 (PHOTO CREDIT: GETTY IMAGES)
FROM CNN's Jack Cafferty:
Barack Obama made history last night. Big time. He is the first African-American presidential nominee for a major party in more than 230 years. And, he could become the first black President of the United States.
The Washington Post says the phrase "black president" was once unthinkable, triggering expectation, fear and incomprehension all at once. And while racism is still around – perhaps it no longer exists at the level that makes a black president unthinkable.
It's pretty heady stuff. The Times of London writes that last night "the ultimate realization of the American dream moved a little closer." A top socialist leader in France called Obama's candidacy "an historic choice." In Pakistan, the editor of one top newspaper says everyone is impressed with this moment... and says many in his country believe Obama would better serve Pakistan's interests. The editor of a Danish newspaper says Obama's multiethnic background could foster understanding between the U-S and other countries.
But before we get carried away, it's clear Obama has a long way to go when it comes to race and the election. Exit polls from the primaries show 1 in 7 white Democratic voters said race was important in their vote. Two-thirds of that group supported Hillary Clinton... and more than half of them say they'd rather vote for John McCain or sit out the general election than support Obama. And those are Democrats. We don't know how many Republicans and independents will take race into account when voting. But we're going to find out.
Here's my question to you: What message does it send to the world that an African-American is his party's likely nominee for president?
Interested to know which ones made it on air?
Vince from New Jersey writes:
As a 54-year-old white male, I believe it's a great time in our nation's history and tells the world racial divides have fallen and we are a strong united America.
David from Ontario writes:
I went to work today feeling extremely happy that Obama finally did it. Whenever I hear the man speak, I begin to feel the world is not so much of a scary place. I wish he was becoming our prime minister, but maybe that's his magic. He inspires the same sentiment in every people in every country on this planet. Do the world a big favor America and make this guy your president! You won't regret it.
E. writes:
I'm just so thankful to God that my father was able to witness this historic moment. Many African-Americans are just amazed and proud beyond words. This is truly a day that we will all remember for the rest of our lives. This whole primary has kept us motivated and inspired to play an active role in our government. Sen. Obama has generated a movement of change and hope that has never been done before.
Toni from Milford, Delaware writes:
I believe it sends the message that calling America the "land of opportunity" is more than just a phrase. And it will probably make countries that have not been receptive to the United States, especially in the past several years, more open to us.
Ashley writes:
If it does send a message, it shouldn't. Last time I checked, we are all human, and despite a difference in the coloring of our skin, Barack Obama is a remarkable American. It's time that we and the rest of the world stop viewing him as a black man and instead as an American man.
Jeanne writes:
Maybe for the first time in my life, I'm proud to be an American. No, I'm not Michelle Obama - I'm a 77-year-old white woman from Idaho.
Allen from Hartwell, Georgia writes:
It says that we can lead the world in something that doesn't involve bombs and millionaires.