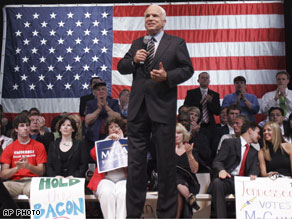 FROM CNN's Jack Cafferty:
Guess who Hillary Clinton's new best friend is? The presumptive Republican nominee, John McCain, is singing Hillary's praises to the heavens.
McCain to a group of Tennessee voters: "I admire and respect her. Hillary Clinton has inspired generations of American women to believe that they can reach the highest office in this nation. I admire the campaign she's run. She's deserving of a great deal of credit."
Interesting timing, now that Clinton's campaign is on its final leg. Clinton has insisted that if she's not the nominee she'll work with Barack Obama to unite the party and beat the Republicans in November. But remember all those Clinton supporters who angrily said they will vote for John McCain in the fall if she is not the nominee? Apparently John McCain remembers. And it sounds like he wants to know if they're serious.
Another sign McCain may be reaching out to Clinton's female supporters: one of his top advisers, former Hewlett-Packard CEO Carly Fiorina, says she believes Clinton faced sexism on the campaign trail. Fiorina says she has a lot of sympathy for what Clinton has been through, and that "a lot of women recognize she's been treated differently, whether they're Democrats or Republicans."
Some of the exit polls suggest there might be something to all this. For example, in Kentucky, 42% of Clinton voters said they'd back McCain, 32% said Obama, and 23% said they wouldn't vote at all.
It remains to be seen once the race is over and tempers have cooled whether these trends will really hold up. After what eight years of the Bush administration have done to this country, wouldn't you have to think long and hard before voting for someone who is almost exactly like him?
Here's my question to you: How likely is it that Hillary Clinton's supporters will actually vote for John McCain in November?
Interested to know which ones made it on air?

Brendan writes:
Although I can understand some of the bitterness coming from Clinton supporters, I can't understand how they could support McCain. It seems that Clinton supporters refusing to back Obama (an essentially identical candidate policy-wise) are substituting sour grapes for the future of this country.
Nora writes:
It hurts to say it, but yes, I believe many Clinton supporters will back McCain over Obama, chiefly because many Clinton supporters are concerned about Obama's lack of experience. He's only been a politician for three years and his background is in community organization (a background that can be claimed by anyone who's ever had a lemonade stand or put together a fundraising carwash).
Shawn writes:
Most of Hillary's supporters are not idiots and won't vote for McCain. Some will, but they are morons and our party is better off without them. The millions of new voters Obama has brought in will more than make up for their childish little tantrum.
Jim writes:
He wants to stay in Iraq. She wants to go. He is anti-abortion. She is pro-choice. He wants to continue the Bush economic policy. She wants reform. For all the hubris and sabre rattling, her supporters will turn out for Obama in November.
Peggy writes:
Hillary was not treated fairly by the media or the DNC. Obama has not said or done anything that remotely shows me that he would be a good president, except give speeches to thousands of people. He can not talk one-on-one or in small groups. McCain shows me nothing. I will stay at home, it will probably be snowing anyway.