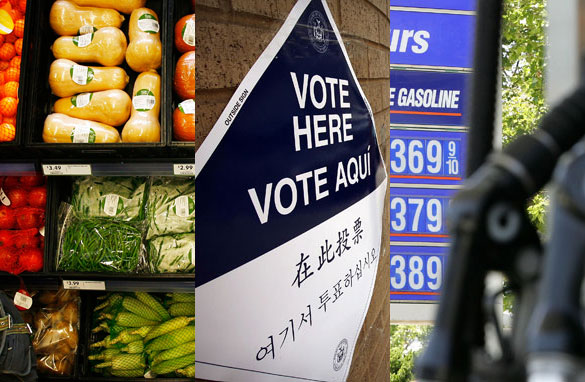 (PHOTO CREDIT: GETTY IMAGES)
FROM CNN's Jack Cafferty:
Americans are down and out when it comes to the state of their own pocketbooks, and it's the issue that is most likely to drive the outcome of the election in November.
A new USA Today/Gallup Poll shows 55% of those surveyed say their families are worse off financially than they were just one year ago. That's the highest number who have felt that way since the poll first asked this question more than 30 years ago. It's also an increase of 11 percentage points since February.
The poll found anxiety about the economy is everywhere, among all groups of people. Two-thirds of those who make less than $30,000 say they are worse off than a year ago, but so do almost half of those making more than $75,000. The only major group of people who say they're better off are, surprise, Republicans.
One of the oldest and most reliable rules of politics is when the economy is bad, that makes for an appetite for change. And history suggests the fight over who can best improve the economy and change things is what will decide this election.
It's pretty simple really. When voters are downbeat about their financial situation, they turn against the party that's in the White House. That's what happened in 1976, 1980 and 1992. Not a good sign for John McCain and the Republicans.
Also, polls show Barack Obama getting much higher marks on the economy than John McCain. My guess is the election will not be decided by whether someone is willing to meet with Iran.
Here's my question to you: How will your personal financial situation affect your vote in November?
Interested to know which ones made it on air?