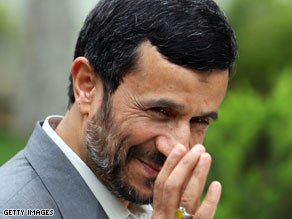 FROM CNN's Jack Cafferty:
We have some bad news for John McCain who has spent the last couple of weeks beating up on Barack Obama because Obama said he would be willing to meet with leaders of countries considered to be enemies of the United States. Most Americans support Obama. McCain was at it again today.
Speaking to a pro-Israel group, McCain said it's hard to see what a summit with Iranian President Mahmoud Ahmadinejad would lead to "except an earful of anti-Semitic rants, and a worldwide audience for a man who denies one Holocaust and talks before frenzied crowds about starting another"
Well, guess what. A new Gallup Poll suggests the country backs Obama. 59% of Americans responding to the poll say it's a good idea for the president to meet with the president of Iran. Here's the breakdown: 71% of Democrats, 58% of independents and 48% of Republicans support this kind of diplomacy. This is despite the fact that polls also suggest few people in this country view Iran favorably, and it leads Americans' list of top U-S enemies in the world.
This same poll also shows a majority of Americans, 67%, say the president should meet with leaders of other foreign countries who are considered enemies of the U.S. Apparently the American people are sick and tired of cowboy diplomacy.
Obama is the only one of the three candidates who has said he would personally meet with leaders of countries like Iran, Syria, Cuba and Venezuela. Both Hillary Clinton and McCain have criticized him for it.
Here's my question to you: What message does it send to John McCain when most Americans say it's a good idea for the president to meet with Iran?
Interested to know which ones made it on air?
Mary from Alabama writes:
I think Obama will win against McCain in the fall. This poll shows that Americans are fed up with the diplomacy of attack first and ask no questions. Bush and his gang have made a rag bag of American diplomacy and moral leadership. Since Hillary tends to use words like 'nuke' and 'obliterate' and voted for the war and Bush's declaration that Iran was a terrorist state, that only leaves Obama. McCain, the Bush clone, is not even worth mentioning.
Michelle from New York writes:
McCain doesn't care what the American people want. If he did, he would change his message. Republicans view the inhabitants of society as 3-year-olds, who have to be seen but not heard.
Jed from Redding, California writes:
As much as I value the opinion of the American people, the vast majority of them are not foreign policy experts and any president - Republican or Democrat - should not make policy based solely on the gut feelings of a large group of individuals. I would feel better if 60-70% of accredited foreign policy experts agreed with Barack Obama on his diplomatic endeavors.
Jan from Knoxville, Tennessee writes:
If meeting with the leader of Iran enhances the road to peace, then I say go Obama! The meeting should be in a neutral site, such as Switzerland, for safety reasons. The Bush foreign policy has been a disaster and we need to change course. I see nothing wrong with speaking with our enemies.
Ted from Phoenicia, New York writes:
It's the same message we're trying to send him about Iraq: We don't want another patriotic lecture, we want you to listen to the American people.
Karen from Pennsylvania writes:
What good would it be for McCain to talk to other leaders? I don't think that he can hear.