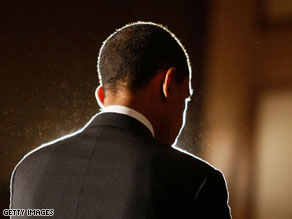 FROM CNN's Jack Cafferty:
Barack Obama apparently decided enough was enough.
Obama announced over the weekend he had resigned his 20-year membership at Chicago's Trinity United Church of Christ.
Obama says he and his wife had discussed leaving the church since April, when his former pastor, the Reverend Jeremiah Wright made more controversial remarks at the National Press Club.
Obama's association with the church had caused an explosion on cable news weeks earlier when video surfaced of Wright's fiery sermons, blaming the U.S. for the 9-11 attacks and saying the federal government helped spread AIDS. Obama initially said he disagreed with Wright but couldn't disown him, but later did just that by denouncing his comments as "divisive and destructive."
More questions about Obama's ties to Trinity arose last week with a guest sermon delivered by the Reverend Michael Pfleger, who mocked Hillary Clinton as weeping over "a black man stealing my show" and said he wanted to expose "white entitlement and supremacy wherever it raises its head." Father Pfleger was harshly criticized by Chicago's archbishop and has since apologized.
Obama says he's not denouncing the church, but points out that because he's running for president, every time something is said in the church, it will be connected to him, even if it's something he disagrees with. The likely Democratic nominee says he has no idea how it will impact his campaign, but that it was a personal decision and the right thing to do for his family.
Here's my question to you: How will Barack Obama's resignation from his church affect his chances in the general election?
Interested to know which ones made it on air?
Steve from Idaho writes:
In a real world, what somebody's preacher said should have no real relevance to a candidate, that is, unless that candidate speaks from the same tongue. Unfortunately, in a campaign where you're tagged by association, this was a good decision by Obama. McCain separated himself from his wacky preachers and now Obama is doing the same.
Bruce from St. Paul, Minnesota writes:
It will take the church off the table as an issue. The GOP will still try to use the Rev. Wright clips, but it will no longer have as much impact. Maybe we will be able to focus on things like health care, Iraq, the economy, tax giveaways, etc, etc, etc. Come to think of it, John McCain has some questionable characters in his past as well. They are named Bush, Cheney, Rice, and Rumsfeld. (I'll save Keating for another time)
S. writes:
Well Jack, it does say something about his judgment. Took him twenty years to realize it was not a great church to be attending. Oprah did it in two.
Randy from Elmira, New York writes:
He's done everything he can do to distance himself from the church, short of burning it down. Probably some Republicans will suggest he should have done that.
Wendy from Illinois writes:
It doesn't matter one way or the other. He should have left years ago, but chose not to. He is just as radical and extreme as his pastors are. There's no other reason why he would stay in that church for 20 years unless he believes the same stupid crap they do. Even if he only joined the church for political reasons, as some are saying, a sane person would have seen the writing on the wall after a few years and left.
Ray from Florida writes:
Jack, I don't think it will make much difference. The Republicans will try and use his former church against him in the general election, but my hope is they will overplay it! If he's smart, he'll join John McCain's church.