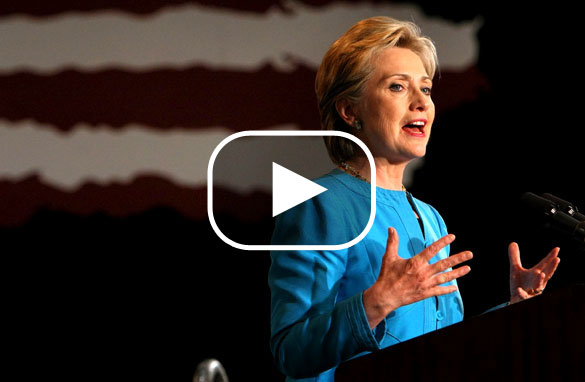 (PHOTO CREDIT: GETTY IMAGES)
FROM CNN's Jack Cafferty:
If you're looking for clues, try this one: Hillary Clinton will give her post-primary speech in New York tomorrow night. The thing is: New York is not voting, Montana and South Dakota are.
Campaign aides say staffers who worked for Clinton in those two states and Puerto Rico have been invited to attend the event or go home and await further instructions. Here's another clue: it's being reported that the campaign's finance department is asking Clinton staffers to turn in their outstanding expenses by the end of the week.
Clinton has also has planned a rally with her husband and daughter in South Dakota tonight, the kind of reunion she usually saves for election nights. Meanwhile, former President Bill Clinton said that today may be his last day campaigning for his wife.
All this would seem to indicate that the end is near. The news comes on the heels of a weekend where Clinton swept up in Puerto Rico, yet was frustrated by the decision of the rules committee. With just two contests to go, Clinton continues to trail Barack Obama in the ever-important categories of pledged delegates and superdelegates.
Nevertheless, Clinton is making the argument that she leads in the popular vote and that by the time all the votes are counted, she will have won more votes "than anyone in the history of the primary process." The problem here is this is only true if you include Michigan and Florida, and don't include some of the caucus states.
Clinton has also suggested she's focusing not only on undecided superdelegates, but also those who have backed Obama and still have the option to change their minds. And finally she says she's still deciding whether to challenge the decision of the Democratic rules committee.
Here's my question to you: Will Hillary Clinton admit defeat and go gracefully when the time comes?
Interested to know which ones made it on air?