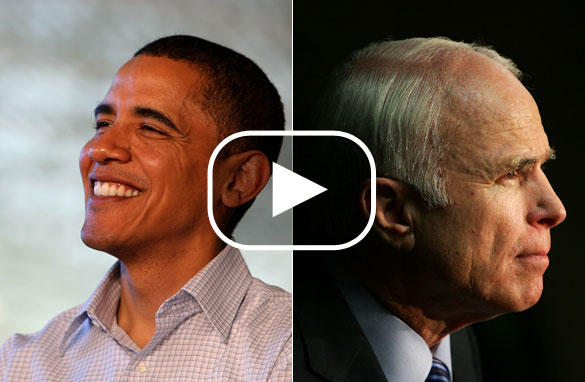 (PHOTO CREDIT: GETTY IMAGES)
FROM CNN's Jack Cafferty:
Despite worries on the home front about the economy, the housing market and record high gas prices... the war in Iraq has made it to center stage once again in the presidential campaign.
Turns out both of the likely candidates, John McCain and Barack Obama, think the debate over the war can work to their advantage.
McCain has been blasting Obama about Iraq, criticizing him for making decisions without visiting the war zone since 2006. McCain argues conditions on the ground have changed drastically since then. The RNC says, "the fact that there are 2-year-old Iraqi children who weren't born the last time Obama was in their country raises questions about what he is making his decisions on."
It's part of a larger strategy to paint Obama as inexperienced. It's also pretty convenient to shift attention away from domestic issues – like the economy, energy and health care – where Obama polls much stronger than McCain.
Obama's camp now says the candidate is considering a trip to Iraq, during which he would focus on how best to withdraw U.S. troops, not reconsider whether or not they should leave. Obama suggests McCain hasn't learned enough from all his travels to Iraq, since all he wants to do is continue President Bush's war policies – even saying at one point American soldiers could be in Iraq for 100 years.
If elected, Obama has vowed to start pulling out troops immediately, with all combat brigades out of the country within 16 months. On the other hand, McCain says the U-S can't go until Iraqi forces have been trained and al Qaeda is defeated.
However, there's also a risk for McCain here: by talking about travels to Iraq, he reminds people about his infamous stroll through the Baghdad market last year where he returned to the United States and gave Americans a completely false report about how peaceful and secure it was there.
Here's my question to you: How important is it for Barack Obama to go to Iraq?
Interested to know which ones made it on air?
Kay from West Virginia writes:
A trip to Iraq for Obama is a double-edged sword at the moment. McCain will claim that he is the reason for the trip and that Obama needs to be pushed into caring about our troops. To not go is to seem uncaring also. His best bet is to state publicly that he is using this time to look at domestic issues and the economy but plans to travel to foreign lands including Afghanistan and Iraq once he has the nomination.
Maryann from Wethersfield, Connecticut writes:
At this point, it will just be a photo-op. He should have gone months ago. Plus the amount of security it would take to protect him would cause undo stress on the troops there.
Edward writes:
I believe it is important for Sen. Obama to go to Iraq. Regardless of a policy position, a potential commander-in-chief needs to show his support and affection for the troops even if he disagrees with the current administration's policy. This is also important to debunk the myths that if you oppose a war policy, you are unpatriotic, unsupportive of the troops, or weak.
Saroop writes:
Jack, I think it is more important for McCain to visit America. With foreclosures, rising energy costs, border insecurity, a crisis response system that has shown to be ineffective with Katrina, and a list of other issues that the current administration has "handled", I think there is some work to be done in the homeland.
Lett writes:
Jack, Yes Obama should go after he is elected and personally escort the troops back home.
Paul from Columbia, S.C. writes:
Absolutely! This is a one-way trip, isn't it? I'll chip in for tickets.