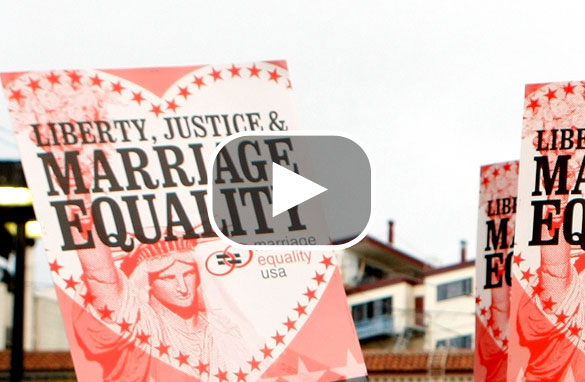 (PHOTO CREDIT:GETTY IMAGES)
FROM CNN's Jack Cafferty:
California is set to start marrying gay couples next month – barring an unexpected legal challenge to the state's recent decision to overturn a ban on same-sex marriages.
This is all well and good for gays who get married in California, but what if they move to a state where gay marriage isn't legal? While there's been a slow and steady march in the direction of gay marriage in some states for years, there remains a question about the recognition of these unions in states where gay marriage remains against the law.
In light of this, New York Governor David Patterson has told state agencies to recognize same-sex marriages performed in states and countries where they are legal. This could affect as many as 1,300 state laws and regulations governing everything from joint filing of income tax returns to transferring fishing licenses between spouses.
Critics insist Paterson is trying to circumvent the legislature and courts, while experts say this would make New York the only state that doesn't allow gay marriage itself but fully recognizes same-sex unions from other states.
But the whole issue remains murky. Different states have different rules. Some states – like Vermont and New Jersey – allow civil unions but no marriage. With California, there will be only two states where gay marriage is legal. The legal rights accorded gay couples will continue to vary widely from one state to another complicating the decision of a gay couple that wants to move.
Nevertheless, the country seems to be developing an increasing tolerance for something that was once considered unthinkable.
Here's my question to you: Is gay marriage in the U.S. inevitable?
Interested to know which ones made it on air?
Paul from Texas writes:
My wife and I have been married for 35 years. Gay marriage is as inevitable as the rotation of the earth. Things change. It won't hurt the institution of marriage any more than the 50% failure rate in heterosexual marriage has done.
Pamela from Canada writes:
Of course. Just like interracial marriage and women's right to vote were inevitable, gay marriage is as well. It's already been legalized in several other countries, and it's only a matter of time before the U.S. catches up. Progressive ideas win out in the end, despite conservative attempts to prevent them.
Herb from Texas writes:
Of course it will, Jack. Our judges are sending abused kids back to their parents, destroying the sovereignty of the U.S., putting law enforcement officers in jail and giving drug smugglers immunity. What do YOU think?
Stephen writes:
Yes, it is inevitable! As a gay man, I am glad, too. America accepting it...is America exhibiting its true values and principles: that people are free to do as they please, so long as no one is getting hurt. Gays will not only marry, but will have families and raise kids just as well as heterosexual couples, or even single parents.
Paul writes:
Yes. But as a gay man in his 60s, I don't think I'll live to see it. I wish gay activists had taken on more pressing reforms. When people are being imprisoned, tortured, or executed in many countries just for being gay, marriage rights seem trivial to me.
Jamie from Fort Worth, Texas writes:
Yes and no. I live in Texas and it's never going to be legal here, but I think there will be more and more states that take up New York's policy.
Stephen writes:
It's time we get out of everyone's bedrooms and pay more attention to who has their hands in our pockets!