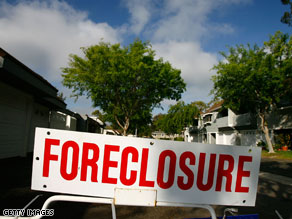 FROM CNN's Jack Cafferty:
Here's another troubling sign of the state of our economy: more Americans are choosing to file for bankruptcy, despite a 2005 law that makes it more expensive and difficult to do so.
The Washington Post reports bankruptcy filings were up 38% last year for Chapter 7 – which wipes out debt, and Chapter 13 – which reorganizes it. The reasons behind the bankruptcy filings are many, including declining incomes, rising costs, poor health insurance and job instability.
Experts say that the bankruptcy trend cuts across all walks of life – including the young and old, homeowners and renters, the poor and middle class. It used to be that bankruptcies were more likely filed by those who had sudden life changes – like a divorce or job loss. Not anymore.
Declining home values have made bankruptcies even more common... in fact, many people are filing for bankruptcy in order to save their homes. By filing for Chapter 13, owners get a foreclosure frozen and they can negotiate payments with their lenders.
Meanwhile, billionaire investor Warren Buffett is warning that the economy is already in a recession. He believes though it may not be a recession as defined by economists, the people are already feeling it. Buffet adds, "It will be deeper and longer than what many think."
A new Gallup poll seems to show that most everyone is already feeling it, with 87% of those surveyed saying the economy is getting worse and only 17% rating the economy as "excellent" or "good."
Here's my question to you: What does it mean when more Americans are choosing bankruptcy?
Interested to know which ones made it on air?
Katie from Pekin, Illinois writes:
Dear Jack, Sadly, they have reached a stage where they cannot survive in this economy. With every essential increasing steadily in price, healthcare and education skyrocketing, job losses, decreases in wages and the value of homes, what are people supposed to do? Where can they turn? Our present government has done a number on middle and lower class America. And, we will be decades digging out of this hole.
Joe from San Diego writes:
I don't have a car payment. I drive a '95 Corolla. I bought a house with a 30-year fixed rate mortgage. I paid off my student loans instead of going on vacation. Those who declare bankruptcy are lazy and morally bankrupt. They refuse to take responsibility for their actions.
James from Akron, Ohio writes:
We know all too well exactly what it means: Americans are quickly losing hope in their leaders. With record oil and food prices continuing on a 3-week rampage and no viable solutions anywhere in sight, we're hemorrhaging what little money we have left.
Jerry from Fayetteville, Tennessee writes:
I suspect it means there are too many predatory lenders dangling a lifestyle in front of too many people who can't resist the temptation to live beyond their means. Add that to the protection that bankruptcy offers homeowners and it's not surprising that folks feel compelled to declare bankruptcy when things get out of hand.
Ben from Florence, South Carolina writes:
High schools need to add mandatory budgeting classes. Oh wait, I forgot, the federal government needs to take the same class. What a great example to set for our nation, spend today and save tomorrow. People reap what they sow.