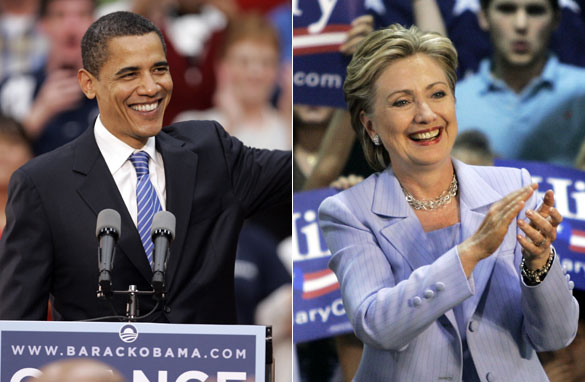 (PHOTO CREDIT: GETTY IMAGES)
FROM CNN's Jack Cafferty:
The Democratic Party is going to try to sort out the headache created by Michigan and Florida.
The rules committee meets this weekend to decide what to do with the delegates from those states. Michigan and Florida broke party rules by moving up their primaries and as punishment were stripped of all their delegates. It was made clear to them before they changed the primary dates that is what would happen.
Party lawyers say the DNC has the authority to seat some of these delegates, but not all. They say seating half of the delegates is quote "as far as the committee can legally go." And, once the committee decides how many of the delegates to seat then they need to figure out how to divide them between Clinton and Obama. Could be a long weekend.
It becomes pretty tricky when you consider that in Michigan, Barack Obama's name wasn't even on the ballot. It's also important to note that both candidates signed a pledge not to campaign in either state and agreed the primaries should be invalid if the states changed the dates. Senator Clinton appears to have forgotten this.
Clinton is hoping the committee will seat as many delegates as possible, so she can narrow the gap with Obama and then try to persuade superdelegates to side with her. But the fact is that even if the delegates are fully restored, it won't be enough for her to overtake Obama's lead.
Meanwhile, a Florida court has thrown out a lawsuit challenging the party's decision not to seat the state's delegates. The judge sided with the Democratic Party, saying that political parties have the right to make their own rules. It's the second lawsuit in Florida protesting the DNC's decision to be thrown out of court.
Here's my question to you: What should the Democrats' rules committee do about Michigan and Florida?
Interested to know which ones made it on air?