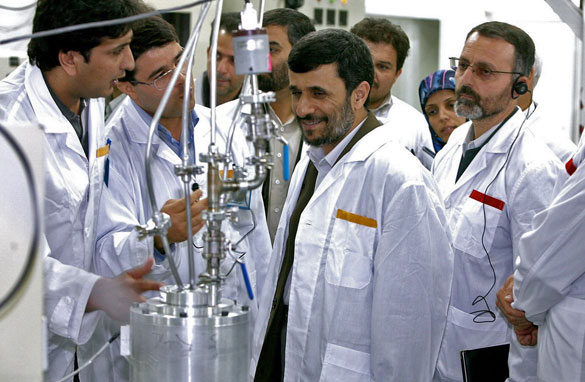 Iranian President Mahmoud Ahmadinejad visits the Natanz uranium enrichment facilities in April. (PHOTO CREDIT: GETTY IMAGES)
FROM CNN's Jack Cafferty:
Iran is withholding critical information needed to prove whether it's trying to make nuclear weapons, according to the International Atomic Energy Agency.
The U-N's nuclear monitor is out with a pretty harsh report, suggesting Iran has stonewalled them. The report says Iran has ventured into explosives, uranium processing and a missile warhead design – all activities that could go hand-in-hand with building nuclear weapons.
Iran continues to insist its nuclear program is for peaceful purposes, namely for energy. It dismissed the documents put out by the U-N as "forged", although it refused to provide any paperwork to back its claims. One Iranian official says the country will continue to cooperate with the agency.
But the report suggests there hasn't been all that much cooperation going on. One senior official close to the IAEA told The New York Times that there are some parts of Iran's nuclear program where the military seems to have played a role. The report also alleges that Iran is learning to make more powerful centrifuges. The nuclear watchdog agency says that in April, it was denied access to sites were Iranians were making centrifuge components and researching uranium enrichment.
U.S. intelligence says that Iran stopped working on nuclear weapons in 2003, but not everyone believes that is the case.
Here's my question to you: What should be done about Iran's nuclear program?
Interested to know which ones made it on air?
Lori from Michigan writes:
We should do nothing at this point. God forbid if Bush tries to act against Iran before his term expires. His administration blew it in Iraq by not having an exit strategy. If Obama is elected in November, then maybe he can accomplish a peaceful solution. If McCain is elected, he will go to war and it will last 200 years.
Cosmin from East Providence, Rhode Island writes:
I think that Iran should be allowed to build a U.N.-supervised nuclear power plant (completely controlled by the U.N.). This way, Iran gets the nuclear energy it's allegedly looking for, while the U.S. can be happy that the Iranian nuclear program is safely positioned under their watchful eye.
Stanley writes:
It's simple, Israel should agree to dismantle its nuclear arsenal, and then we should insist that Iran stops its pursuit of nuclear weapons.
Jacob from Michigan writes:
Jack, We should do as McCain says and "Bomb, Bomb, Bomb Iran".
Jane writes:
The U.S. and the U.N. should take seriously Iran's claim that the documents they are worried about were forged. We should all remember, and Jack, you should remind people, that there were forged documents in the lead-up to the Iraq invasion. Everyone should slow down and remember that we were lied into the disastrous invasion of Iraq and we are probably being lied into another disastrous invasion.
Doug from Knoxville, Arkansas writes:
How about we let Europe or China or some other country take care of the problems in their corner of the world? As a taxpayer, I am tired of my taxes being spent in every corner of the world when it needs to be spent here!