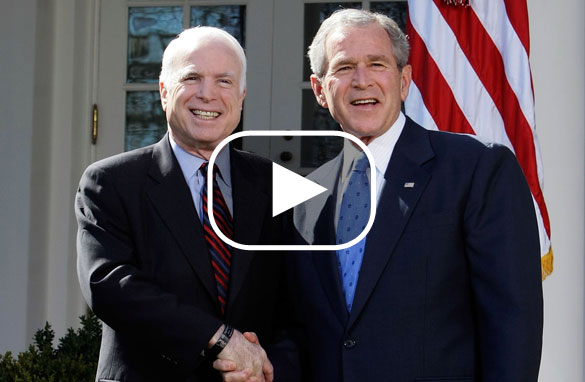 Click the Play Button to see what Jack and our viewers had to say.(PHOTO CREDIT: GETTY IMAGES)
John McCain has a dilemma of presidential proportions, and that is: how exactly should he use President Bush on the campaign trail?
The president, whose popularity ratings are at record lows, will appear on behalf of McCain this week for the first time since formally endorsing him almost three months ago. Mr. Bush will attend 3 fundraisers over the next 2 days.
The fundraisers will all be in private homes and there will be no press allowed. McCain is expected to join the president tonight in Phoenix. The event was originally scheduled to be held in the Phoenix Convention Center. The Phoenix Business Journal reported that poor ticket sales and fear of anti-war protesters prompted the switch to a much smaller private home.
It's clear that McCain is walking a fine line using President Bush to raise money without alienating too many Democrats and Independents. For example, the only on-camera appearance of President Bush and Senator McCain together is set to happen at the Phoenix airport sometime after 9 o'clock tonight – long after the network newscasts.
McCain has gone out of his way in recent weeks to separate himself from President Bush on Hurricane Katrina, the Bush administration's arrogant foreign policy, and President Bush's out-of-control spending. But on other issues – like tax cuts, health care, and the war in Iraq – the two men are joined at the hip.
Here's my question to you: Will President Bush be a bigger asset or liability to John McCain's campaign?
Interested to know which ones made it on air?
Frank from Phoenix writes:
I can't imagine anyone could be a bigger liability than Bush standing next to you for a photo op. If I tried real hard maybe I could think of someone. Nope. I tried. Can't think of anything worse.
Teri from Palm Coast, Florida writes:
Jack, Bush is an asset to the people that really matter to McCain – the top 2% in income. Money matters, and Bush/Cheney supplied more of it to the rich. They are the ones who want Bush's legacy to continue, and McCain is going after them wholeheartedly.
Allen writes:
John McCain is in big trouble. He needs the money President Bush can bring in, but aligning himself with President Bush will be the kiss of death in November. It will be fun to watch John McCain in this tug of war with himself. We are about to find out just how good a politician he really is.
Jason from Orlando, Florida writes:
He is most definitely an asset to McCain. He should be out there doing all he can for McCain in the general election.
Signed,
Democratic voters
Carroll writes:
The only way the American people can pay back Pres. Bush for what he has done to this country is to not vote for McSame.
Brenman from Melbourne, Florida writes:
Jack, Senator McCain is treating President Bush like a mistress. He wants to receive all the benefits (pleasure) from him but doesn't want to be seen too much in public with him. This shows the true character of McCain. He will do and say anything to become president of the United States of America.