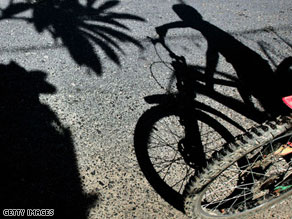 FROM CNN's Jack Cafferty:
Hillary Clinton is reminding voters about that 11-year-old Kentucky boy who sold his bike and video games so he could donate more than $400 to her campaign. And his parents let him do it. And she took the money.
After her win in Kentucky this week, Clinton once again thanked Dalton Hatfield, saying he helped her "carry the day" in his home state.
The New York Times caught up with 5th grader, who says he decided to donate to Clinton's campaign about two months ago when he saw she was running low on money: "I just saw so much that I did not need such as like my video games, and I thought, 'What can I do with them?'" So he sold his bike, video games and also collected other donations.
He says Clinton has "very good views on specific issues that are important to this election", including the war, the economy and health care – all things that matter deeply to an 11-year-old.
Hatfield has since met with both former President Bill Clinton and Hillary. He says he was nervous about meeting Senator Clinton... but she told him that he'll "always have two friends, her and Bill." The elementary school student says he'd have to think about raising money for Obama, should he become the nominee... but as of now, probably not.
The story of a little kid selling his toys to donate money to a politician is the perfect way to end the week for the Cafferty File.
Interested to know which ones made it on air?
Judie writes:
Jack, Children are not old enough to vote and they sure are not old enough to sell the toys that their parents work hard to buy for them to give the money to a multi-millionaire politician. I think the parents of the boy who did this were just looking for their 15 seconds of fame. And isn't it beyond belief that the woman who is worth millions of dollars even took the money and then bragged about it while campaigning.
Cynthia writes:
More important than would you let your child, who would take it from a child?
Len from Colfax, Wisconsin writes:
Jack, I would under certain conditions. I would expect that it would be based on some level of understanding of what was going on and not just on superficial feelings. The child should have done some research about the candidate with reasons based on what was learned. The child would not need to agree with me and might, in fact, cause me to change my opinion.
Mike from California writes:
Are you kidding? After what the politicians have done to our kids' future?
Jasmine from Germany writes:
No, Jack. My children are taught to pass their toys on to other children who really need and deserve them (including orphanages). The only time I have approved of the "selling" of toys (in our family) is if it has been for a charity event, such as a fundraiser for a pediatric hospital, or a school, etc.
Tom from Avon, Maine writes:
If the politician was down to her last hundred million, with fewer than six homes, I might.
C.T. from Bartlett, Illinois writes:
Probably not. My son, Jack (if I tell you he's named after you, would you put this on the air?) loves his toys. I would however let him sell them to give money to the "Cafferty for President" campaign.