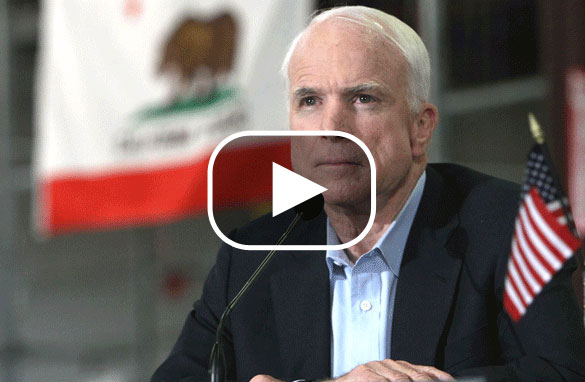 Click the Play Button to see what Jack and our viewers had to say.(PHOTO CREDIT: GETTY IMAGES)
FROM CNN's Jack Cafferty:
John McCain's doctor says there's no medical reason the 71-year-old should not be president. Health records released by his campaign today show he appears to be cancer-free, has a strong heart and is in good health.
McCain's been treated for 5 skin cancers, four of those were melanoma - the deadliest form of skin cancer, and he was a prisoner of war in Vietnam for over five years.
Because he remains at risk for developing new skin cancers, he's checked every few months. Doctors say there's been no recurrence since 2000. McCain's cholesterol levels are a potential concern, and he takes medicine for that... but his blood pressure is good.
McCain has been treated for a range of health issues that are common in older people, like having pre-cancerous skin lesions and benign colon growths removed. He also has degenerative arthritis from his war injuries.
The Arizona senator shrugs off the age issue on the campaign trail by pointing to his stamina and his strong genes. Early in the race, many voters said McCain's age would be an issue. But in one recent poll, 70 percent of those surveyed said his age won't affect their vote.
McCain's likely Democratic rival, Barack Obama, is 46. Neither Obama nor Hillary Clinton has released their medical records, but then again they wouldn't become the oldest person to ever serve a first term as president.
Interested to know which ones made it on air?
H. from Washington writes:
It would give me pause considering that the type of melanoma he had has a 10-year survival rate of 65%. One important thing to consider is that of all cancers, melanoma has a nasty habit of recurring years even decades after the initial diagnosis. Let just hope his doctors are on board the straight talk express and not taking him or us for joy ride.
Harry from Gallatin, Tennessee writes:
I have heard no serious medical questions about McCain's health. Cheney's health was in really serious question before he became vice-president, and he has done all right, getting through two terms. Reagan survived being shot while in office, and he was about as old as McCain is now. So the medical treatment available to those in high office seems to be doing the job.
John from Carlsbad, California writes:
I am concerned, but that isn't the reason I will not vote for him. Yes, his age is a concern but as long as he makes a quality choice for vice president that isn't as big a deal as his politics and his persona. I don't want another hot headed gunslinger in the White House.
Howard from Bolingbrook, Illinois writes:
One question: If McCain is doing so swell, why did it take so long to produce these records? To me, it should have only taken a quick trip to Kinko's. Something smells.
Linda from Virginia writes:
His health is the least of my worries if he is elected.