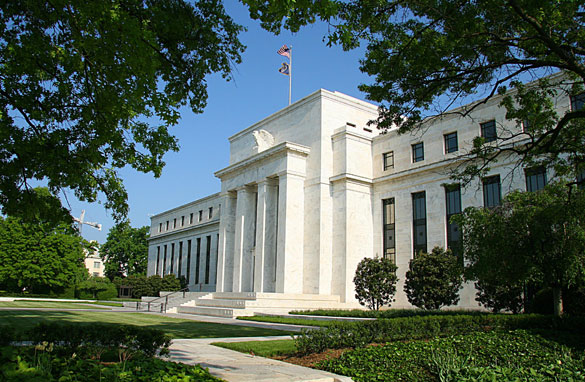 US Federal Reserve Building in Washington, DC. (PHOTO CREDIT: GETTY IMAGES)
FROM CNN's Jack Cafferty:
So far, the government's big solution to fixing our sluggish economy has been to pour $150 billion into tax rebate checks for about 130 million Americans. The idea behind it is to bolster the confidence of U.S. consumers, and to get them to spend that money to jump-start our economy.
But, turns out the checks – in the amount of $600 per individual and $1,200 per couple – may not be doing the trick. A new Gallup Poll shows people who have already received their tax rebates feel just as uneasy about the state of our economy as those who haven't yet gotten the checks.
43% of those who received the rebates rate the economy as "poor" while 18% say it's "excellent or good." That's nearly identical to the 43% of those who haven't received a rebate and say the economy is "poor", while 16% of them say "excellent or good."
87% of those who have received a rebate say the economy is getting worse, not better. That's about the same as the 86% who haven't gotten a check and hold the same view.
Also, the tax rebates seem to have done very little in the way of relieving Americans' worries about their own financial situations. Almost the same percentages of people say they "worried about money yesterday" – regardless of whether or not they've received a rebate check.
Here's my question to you: Do the government's rebate checks make you more confident in the U.S. economy?
Interested to know which ones made it on air?

David from New Hampshire writes:
Not at all, Jack. I cashed mine and put it in my wallet. If enough people do this, President Bush might just be dumb enough to issue a second set of checks.
Harry from Kentucky writes:
I have every confidence in the world that the price of gas will be below $3.50 by Election Day and that incumbents of every stripe will point to their support for the rebates as saving the American economy.
Robert from Roswell, Ga. writes:
We are a married couple and only received $600. Apparently we didn't earn enough so the government decided we only deserved half. Had we filed separate returns we would have received $600 each. This Republican administration can't even bribe us correctly. Bobo the clown and his sidekick Foofoo can be the Democratic candidates as far as I am concerned. You can bet I am NOT voting Republican – EVER.
Bonita writes:
No way, it makes me more leery of our economy. This money for our rebate checks is borrowed money. How can anyone feel comfortable knowing that? If my son had to borrow money for my birthday gift, I would rather NOT have the gift. I always thought that the Republicans were against spending....they have gotten us deeper in debt that any previous administration and we will be paying for this till way past our dying day.
Joyce writes:
Jack, I think you should know that many people, like myself, only received $300 in rebate checks. Since I am living on a fixed income, I had to use mine to pay my car insurance. I am not sure how I will afford the gas to drive if the price of gas keeps rising.
Dick writes:
I am using my rebate to buy 150 gallons of gasoline. In a short time, I can resell it for double. Then I will use that money to buy euros and in a short time, I can sell them for double the dollars they cost. So by next year, I expect my rebate to net me $2,400. I will then go the grocery and buy a pound of potatoes.