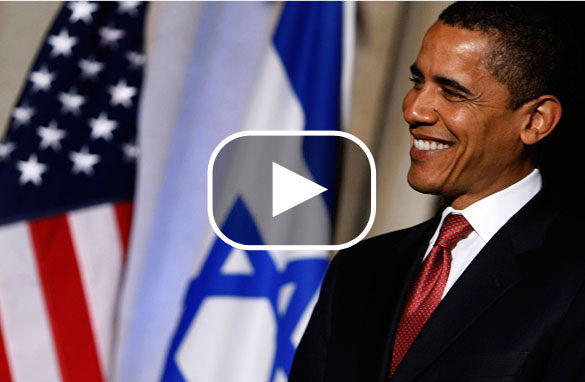 Sen. Barack Obama at an event to honor the 60th anniversary of Israel's independence in Washington, D.C. Click the Play Button to see what Jack and our viewers had to say.(PHOTO CREDIT: GETTY IMAGES)
FROM CNN's Jack Cafferty:
"The fate of the world for the next four years... it's all going to boil down to a few old Jews in Century Village"… that's the assessment of the 2008 election campaign by Rabbi Ruvi New, according to the New York Times.
While the line is the kind that will get a laugh, the point he's making is very serious: Barack Obama could have a problem with some Jewish voters, especially in Florida.
Obama was in Boca Raton today speaking in a synagogue about foreign policy and his approach to Israel. Florida is critical, and Jews make up almost 4% of voters there. Many of them are elderly, and that's the group that has concerns about Obama.
He has received a lot of support from younger Jews – winning 45% of the Jewish vote in the primaries – if you don't include Florida and Michigan. But the latest Florida poll suggests Obama would lose to John McCain, while Hillary Clinton would win.
Obama didn't campaign in Florida and voters didn't get a chance to know him. It is a hotbed for rumors about him: people think he's Arab – he's not; that he's part of Chicago's Palestinian community – he's not; that al Qaeda is backing him – they aren't; that he'll fill his cabinet with supporters of Louis Farrakhan – he won't; and that the Reverend Jeremiah Wright is the godfather of his children – he isn't. It's amazing with all the access to accurate information that people could be so pathetically uninformed.
Others are worried about Obama's commitment to Israel or have reservations about his willingness to talk with Iran. And for some, it's a question of race.
Here's my question to you: What does Barack Obama have to do to persuade Florida's Jewish population to support him?
Interested to know which ones made it on air?
Vic from Wantagh, New York writes:
Well, that's it in a nutshell (or a blintz). Last winter, Obama became a uniting phenomena because he held the promise of transcending race, ethnicity and class distinctions. After the Rev. Wright affair, the "sucking up to Iran" business and now old Jewish folks in Boca Raton, we can see what the American presidential election is all about: America the "melting pot" of social groups becomes America the "boiling pot" of politics and media attention.
George from Atlanta writes:
He doesn't have to do anything. Enough of the double talk and analysis. Their minds were made up long before Obama entered the presidential race. Many of the older Jews in places like Century Village simply will not vote for any African- American.
Joe writes:
Senator Obama doesn't need to go too far out of his way to "persuade Florida's Jewish population to support him". His base of support is non-traditional. In one sense, he doesn't really "need" them… That doesn't mean he should ignore Florida Jews, of course. Rather, he just needs to keep doing what he's doing already, that is, reaching out across "traditional" boundaries, and being the embodiment of true change.
Audrey from Miami, Florida writes:
I am a Jewish white girl from Florida and I am praying Obama gets elected. I know some of my older family members are iffy about him, but they will still vote for him if he's the nominee.
Bob from Florida writes:
Jack, No more than Hillary has a problem with: math, the DNC rules, the superdelegates, Howard Dean, delegate count, number of states won, popular vote, white educated people who work, the electoral map, Bill, defeat, and last but not least… the truth. Capish?
Ilan writes:
Obama needs to go to Israel after the Puerto Rico primary and make a major policy address on his Middle East policy, showing detail and a depth of understanding. Or he could just wear an Israeli flag lapel pin.