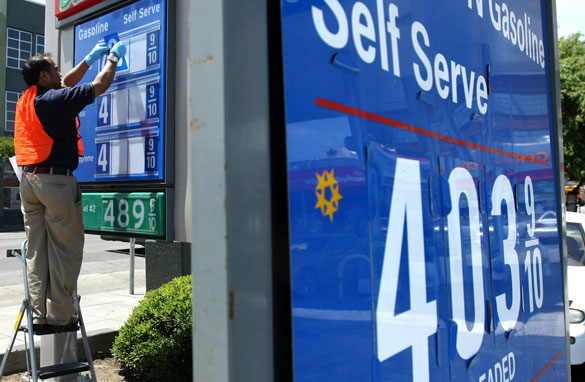 (PHOTO CREDIT: GETTY IMAGES)
FROM CNN's Jack Cafferty:
The day of reckoning may soon be upon us. Crude oil hit a record high of more than $133 a barrel today, after a government report that stockpiles of gas and oil have fallen unexpectedly.
But that's not the worst of it. Fears of oil shortages within 5 years actually pushed long-term oil futures to almost $140 a barrel yesterday. The Financial Times reports veteran traders say they've never seen such a jump, and that they believe more and more investors are betting that oil production will soon peak.
One influential investor says he thinks oil prices will hit $150 a barrel by the end of the year. And Goldman Sachs is predicting oil could top $200 a barrel within two years, which could mean gasoline at $7 or $8 a gallon.
All this comes as global demand for oil is increasing much faster than supply, especially in places like China, India, the Middle East and South America.
Crude oil prices have more than doubled just in the past year... something most Americans have felt at the pump, with a gallon of gas now costing $3.81 on average. According to AAA, the price of a gallon of regular unleaded gasoline hit a record high for the 14th day in a row. That has never happened before. What will we do when gas hits $7 a gallon?
Here's my question to you: What should the U.S. be doing now to address possible oil shortages within five years?
Interested to know which ones made it on air?
Deb from Lancaster, Pa. writes:
1) We must work to decrease our mental as well as physical dependence on fossil fuels. 2) Invest beaucoup bucks in alternative fuel production. 3) Put the automakers' feet to the fire: The technology for very efficient cars exists – Quit kowtowing to Big Oil and make these cars happen NOW. 4) Elect OBAMA! He gets it and won't have to genuflect before any lobbyists, giving us all a chance to finally get this stuff done. Our grandchildren's future depends on it.
Tom from New Jersey writes:
Jack, our foreign policy of (literally and figuratively) holding hands with the Saudis and other oil produces, as well as huge oil corporations, is the primary reason why we have this problem. The only thing the government needs to do is stop being sweethearts with the oil industry, and let alternative options have a chance.
Deanne from Baytown, Texas writes:
I think we should start making cities and towns more walker and biker friendly. I live only 10 minutes from where I work and I would walk if there were sidewalks. That way we could save gas and at the same time cut down on heart disease.
Kevin from Delaware writes:
Jack, We should open up Alaska and the Eastern Gulf of Mexico to oil exploration. All we have to do is say we are going to do it and this could make us oil independent. Prices would drop just on the threat.
Mark writes:
Jack, It's simple: hourly workers should be given the option to work 4 10-hour work days versus 5 day work weeks and telecommuting should be supported through government tax incentives… Americans already work more than any other industrialized nation and we would see a dramatic decrease in our oil requirements.
Michael from Skowhegan, Maine writes:
Jack, What Americans have always done: complain when they pay up at the pump, then drive off in their SUVs shaking their heads at the price.