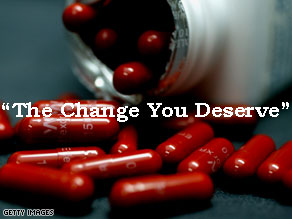 FROM CNN's Jack Cafferty:
The Republicans are "busy dying" while the Democrats are "busy being born."
That's a stark assessment coming from Peggy Noonan in a column called "Pity Party" in today's Wall Street Journal.
Noonan paints a pretty bleak picture for the Republicans come November describing them as "frozen, not like a deer in the headlights but a deer in the darkness, his ears stiff" at the approaching sound of a hunting party.
In light of the string of GOP losses in special elections this spring, Noonan points to many party leaders in Washington she says are stupid and detached. She suggests that Republicans goofed big-time by not breaking on principle with the Bush administration on issues ranging from the Iraq war to immigration to government spending.
If the GOP had pushed back against President Bush in the last few years, Noonan says they could have separated the party's fortunes from the president's. She says it would have left the party broken, but not with a ruined "brand."
Speaking of branding, House Republicans say they have no plans to alter their new campaign slogan "Change you Deserve". You know, the same one that's used to market the anti-depressant drug Effexor.
Minority Leader John Boehner says the slogan is "working out just fine." Really? For the Democrats, maybe. They're having a field day, saying that, "Democrats, not drugs, is what with American people need."
Here's my question to you: What slogan would you pick for the Republican Party?
Interested to know which ones made it on air?

Michael writes:
Here's my slogan for the Republican Party: "Let's just pretend the last eight years never happened."
Eli in Stockbridge, Georgia writes:
"Selling out America with Pride" seems to be fit as any slogan out there for the GOP.
Carol in Massachusetts writes:
How about "How low can we go?"
Sharon in Minnesota writes:
Get back to Moderation and Stability with John McCain. Vote McCain in '08.
Steve writes:
We Want Change! Just as long as everything stays the same! Jeb is not my brother.
Robert in Minneapolis writes:
Jack, The GOP: We're not hypocrites, we're just really, really confused.
Carlos in New York writes:
The only slogan they should be using is this: "We're sorry."
Briston writes:
Republicans: Screwing it up since 2000.
Jack in Oregon writes:
The GOP slogan should be "Let us Pray."
Michael writes:
Who is this "Bush" you speak of?
John writes:
That's easy. Republicans: Small Tent, Wide Stance.