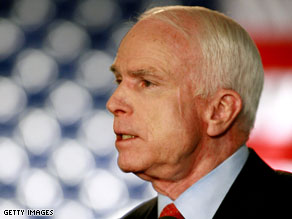 FROM CNN's Jack Cafferty:
John McCain peered into the future this morning... delivering a speech that looked ahead to what the U.S. and the world would be like in 4 years, after the first term of a McCain presidency.
Some of the highlights: he thinks the Iraq war will be won, Iraq will be a functioning democracy and violence there will be "spasmodic and much reduced." McCain believes the U.S. will have welcomed home most of its troops. He thinks the threat from al Qaeda and the Taliban won't yet be eliminated – even though bin Laden will be captured or killed. It's a pretty bold move to lay out objectives like this – gives critics a lot to measure you against.
In any case, John McCain seems to be one of the few things Republicans have going for them this fall. After a string of GOP defeats in special elections, many are hoping that the maverick appeal of McCain will help other Republicans on the ballot. This is all kind of ironic, when you consider the Arizona senator has been at odds with his own party for years on issues like immigration, campaign finance reform and global warming.
But Republicans are facing a dismal scenario. One GOP congressman is calling this year's political atmosphere "the worst since Watergate" adding "the Republican brand is in the trash can... if we were dog food, they would take us off the shelf."
Some folks are predicting Republicans could come out of November with a 70 seat deficit in the House alone.
Here's my question to you: Should Republicans facing congressional races in November run away from – or run with – John McCain?
Interested to know which ones made it on air?
Dori from Arizona writes:
I live in a Republican state. John McCain's state. Don't like what the Republicans have done for – or to – us. Don't like McCain or his duplicitous wife. See his blasting of Obama for being willing to sit down with the enemies of our country and people as a reflection of McCain's own cowardice. Enough said.
Fred writes:
Run away from him if they plan on continuing in office for more than one term. Because, if on the rare chance that both Senator McCain and they are elected, they can look forward to four years of embarrassment by an aging senator who seems to suffer from dementia. For example, this morning after watching Senator McCain hold forth on his utopian vision of how the world will be at the end of his first term in office, I realized that no suggestion as to how he was going to accomplish any of this had been given.
Robert from New Jersey writes:
After his "chicken in every pot and car in every garage" fantasy speech today regarding what he sees as his accomplishments after his first four years, run is not the word.
Randy from Elmira, New York writes:
There's no question they have to run with him. The Republican Party isn't going to disappear after November. They are in a bad way now but that can certainly change. McCain is a Republican's best hope of re-election. If he can swing voters his way, his coattails may be longer than we think.
Tom from Desoto, Texas writes:
McCain: All aboard on the good ship Titanic. Lifetime employment, opportunities overseas, travel, see the world. Welcome to Iraq!