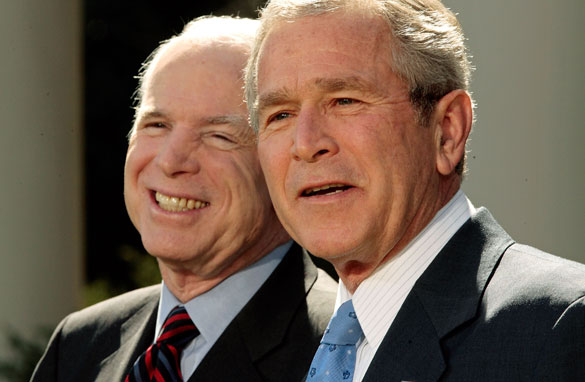 (PHOTO CREDIT: GETTY IMAGES)
FROM CNN's Jack Cafferty:
Americans are a gloomy bunch these days.
According to a new Washington Post-ABC News poll, 82% of us think this country is headed in the wrong direction. That's the highest percentage of people who feel that way in more than 15 years.
President Bush's job approval rating is at another all-time record low. It's been below 50% for 38 consecutive months – more than 3 years. People overwhelmingly say they trust Democrats over Republicans – 53% to 32% – to do a better job with the many problems facing the U.S.
This is a pretty dire picture for John McCain – a Republican and President Bush's buddy. But so far, McCain has found a way to escape some of the anger facing his party. In a hypothetical match-up with Barack Obama, McCain remains competitive, trailing him 51% to 44%.
But you can bet Obama and the Democrats will do everything they can to exploit the discontent felt by many Americans. In fact, Obama runs more than 20 points ahead of McCain among those 82% in the poll who think the country is headed in the wrong direction. And about 7 in 10 of those who disapprove of President Bush say whey would back Obama over McCain.
Obama also holds double-digit leads over McCain on issues like health care, gas prices and the economy, while McCain has a 21-point lead on handling terrorism. Surprisingly, the two run almost even on the Iraq war and on immigration.
Here's my question to you: Considering 82% of Americans think the country is on the wrong track and 66% disapprove of President Bush, what are the chances John McCain wins in November?
Interested to know which ones made it on air?