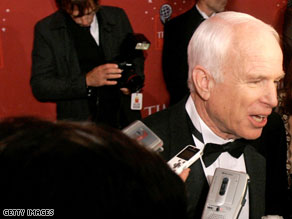 FROM CNN's Jack Cafferty:
Money talks in presidential elections... and it may be causing John McCain some heartburn or sleepless nights at this early stage of the game.
That's because the presumptive Republican nominee is struggling to get money from many of the same industries that helped fund President Bush's campaigns.
Bloomberg News reports that many people who work for securities and investment firms, construction companies, the pharmaceutical and energy industries have been turned off by McCain's record, and are giving more money to Barack Obama and Hillary Clinton.
The two Democrats each raised about $11 million from these four industries through the end of March, compared with only $6 million for John McCain. Back in 2004, President Bush raised three times more money from these places than John Kerry did.
Meanwhile, here's another sign of potential money trouble: the Houston Chronicle reports Texas has been slow to warm to McCain. Almost three months after sewing up the nomination, McCain has yet to get money from most of President Bush's top Texas donors. In fact, McCain has raised less in Texas than either Hillary Clinton or Barack Obama.
One political analyst puts it: "If a Republican isn't outraising a Democrat in Texas, where are they going to outraise a Democrat? Vermont?" One Texas fundraiser says it's been easier to raise money for a Democrat in the Lone Star State this year. The reason? "Bush fatigue."
Here's my question to you: Why is John McCain having problems raising money?
Interested to know which ones made it on air?

Greg from Cabot, Arkansas writes:
Some people donate some money to candidates with the hope that they will win. Other people donate more money to candidates they think they will win, while the big money flows to the best bet or a sure thing. Obama is cashing checks, McCain is asking for money and Clinton is begging for donations… kinda says something about the mood of the voters.
Nora from Corpus Christi, Texas writes:
President Bush has a 70% plus disapproval rating right now. That is a big, giant negative for John McCain. Even though he tries to distance himself from Bush, he might want to take bigger steps getting away from him. Plus, I think McCain is not a real Republican in the true sense of the word. He would like you to think he is, but I think not!
Jodie from Idaho writes:
I really do not think the Republicans are happy with their candidate. I know I am not. I think he is too old and too out of touch. I don't like any of his proposals - especially to stay in Iraq. What choice do I have, but to vote for someone else? I am not going to vote for him just because he is a Republican. I am school teacher who is looking for change. McCain just does not represent that change. A lot of Republicans feel the same way. Just ask them.
Derek from Cape Coral, Florida writes:
McCain is having money problems because everyone knows he is the incumbent loser. Why waste money on a candidate when they are going to get nothing back? These industries have to spend money so they can control the president. McCain is not that guy.
Kevin from Jonesboro, Georgia writes:
McCain is having troubles because all of those big-pocket Republicans that would normally being throwing tons of money into the campaign are trying to pay off their rising mortgages and healthcare bills, thanks to the last good ole boy they got into office!