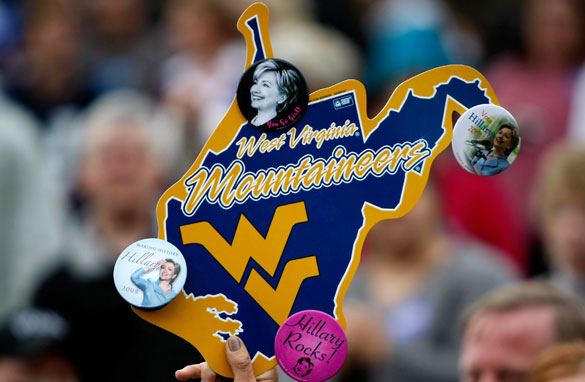 (PHOTO CREDIT: GETTY IMAGES)
FROM CNN's Jack Cafferty:
Hillary Clinton is expected to win big tomorrow in West Virginia. A new poll there shows her leading Barack Obama by 34 points. Clinton remains strong among working-class whites, women and older voters – and those demographics should play to her advantage in West Virginia as well as next week in Kentucky.
But, how much does it really matter? Obama seems to have this thing pretty much in the bag. He leads Clinton in overall delegates, states won, popular vote... and now for the first time, in superdelegates. You may remember, at the beginning of the year, Clinton led the superdelegate race by more than 100.
Clinton is vowing to stay in the race until someone gets enough delegates to clinch the nomination. Her campaign is also pushing the idea that she's "within striking distance" of winning the popular vote, which should make her the nominee – even though the rules are clear – the nomination is won with delegates, not the popular vote. It's clear that Clinton has a steep road to climb for any chance at the nomination. Her campaign is also confirming that she is now $20 million in debt.
For its part, the Obama camp seems to have its sights set on November already. Instead of waiting for election night results in West Virginia tomorrow, Barack Obama will travel to Missouri, a swing state in the general election. Next week, he's headed to Florida. It's also worth noting that the tone of introductory speeches at his events has turned much more partisan, focusing in on John McCain.
Here's my question to you: Is it possible for a landslide victory in West Virginia to put Hillary Clinton back in the race?
Interested to know which ones made it on air?